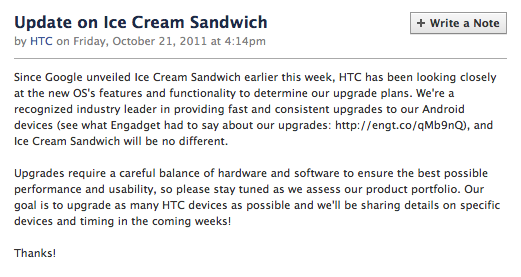 HTC has taken to their Facebook to clear the air about their Android lineup and future software updates to Ice Cream Sandwich. After an earlier report this week that they were "evaluating" the software HTC has gone and promised to update as many handsets as possible. T-Mobile certainly has a lot of HTC handsets in the mix and we'd love to see them all get the Ice Cream Sandwich update. Everyone wants the latest and greatest right?
"Upgrades require a careful balance of hardware and software to ensure the best possible performance and usability, so please stay tuned as we assess our product portfolio. Our goal is to upgrade as many HTC devices as possible and we'll be sharing details on specific devices and timing in the coming weeks!"
We have confidence that HTC will listen to their users as they've done once before and work hard to get Ice Cream Sandwich rolled out to as many handsets as possible.