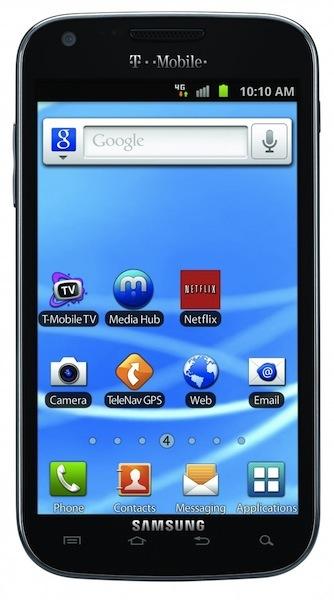 The Galaxy S II hasn't been secret since the official announcement came a few weeks back at the Samsung press event that took place in New York. However, T-Mobile is announcing additional details of the GSII today including the two most important facts of all…price and availability. First, let's start with absolutely positive official confirmation about the processor inside the Galaxy S II hardware. A Qualcomm Snapdragon S3 processor with 1.5GHz dual-core cpu running on Android 2.3.5 and is NFC enabled.
The Galaxy S II is a true mobile entertainment powerhouse with a 4.52″ Super AMOLED screen, the largest available on any T-Mobile device. With DLNA compatibility and HDMI out, the GSII is more than capable of powering content on a compatible HD TV. You can also access movies and tv shows galore through Netflix, T-Mobile TV in Mobile HD, Samsung Media Hub and YouTube all using the phone's beautiful 4.52″ screen. Let's not forget that the Galaxy S II is powered by T-Mobile's HSPA+ 42Mbps 4G network.
Let's get back to the most important pieces of information, pricing and availability. You can score your very own Galaxy S II through an exclusive online pre-sale beginning on October 10th with in store availability on October 12th. The Galaxy S II will cost $229.99 after a $50 mail-in-rebate with a two year service agreement and qualifying Classic voice and data plan.