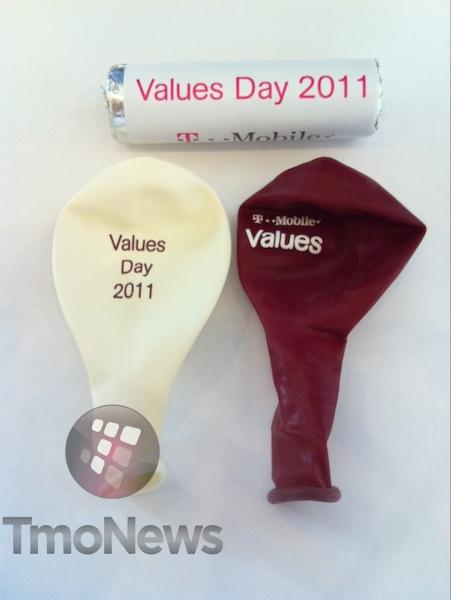 Update: We've been told by trusted sources that "Values Day 2011" is an annual event/internal program used to boost employee morale. However, it doesn't change our belief that the promotion itself taking place on the 24th is still a Value-plan based promotion. 
We're still guessing at what exactly T-Mobile has in store for their "All Hands Day" on September 24th even so we're receiving more and more notification that this will be another sale similar to T-Mobile's previous Fathers Day and Valentines Day sales. Furthermore, we're hearing that call centers are asking for overtime be used on September 24th giving us a bit of hope that this offer, whatever it may be will also involve fully qualified existing customers as well as new customers.
The image we've just obtained above leads us to further believe that we are looking at a one day sale possibly called "Values Day 2011." Given that certain retail stores are receiving balloons without any sort of documentation as to when they are to be used allows us to assume that this somehow ties in with the rumored September 24th sale.
Here's a little more food for thought as someone brought up an interesting possibility that this sale has been arranged in order to provide current and future T-Mobile customers with an amazing deal before the launch of the iPhone 4S/5. Without a lot of indications that the iPhone will arrive on T-Mobile this year it's entirely possible that this deal is structured to provide T-Mobile customers with a big incentive to stick with Magenta. Obviously this is all theory and we don't know what September 24th truly is nor do we know if it has anything to do with a possible launch/not launch on T-Mobile. Still, it's food for thought.