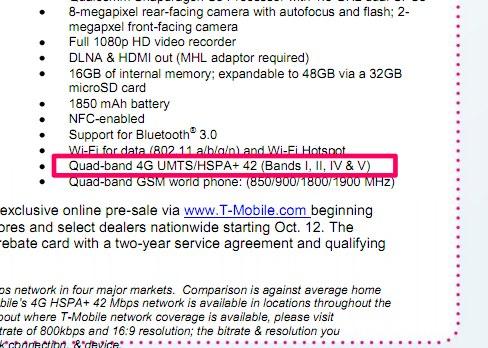 This isn't the first time we've seen a T-Mobile device come listed as a Quad-band 4G device giving us that the time may have finally arrived that a future proof device is available on the T-Mobile network. When T-Mobile originally posted the G2x on T-Mobile.com it was also listed as a Quad-band device but unfortunately the release saw it a dual-band AWS only device.
We're playing the same game this time around as the T-Mobile Fact Sheet for the Galaxy S II lists the future T-Mobile smartphone as a Quad-band UMTS/HSPA+ device. Obviously this would be a fantastic move in the event AT&T does take over T-Mobile providing a future-proof solution for customers.
Still, we're taking this with a grain of salt as our hopes were raised with the G2x only to be let down when T-Mobile was alerted to the mistake and refreshed the G2x specs online.
Have a close look at the Fact Sheet below and see what other goodies you might be able to uncover!