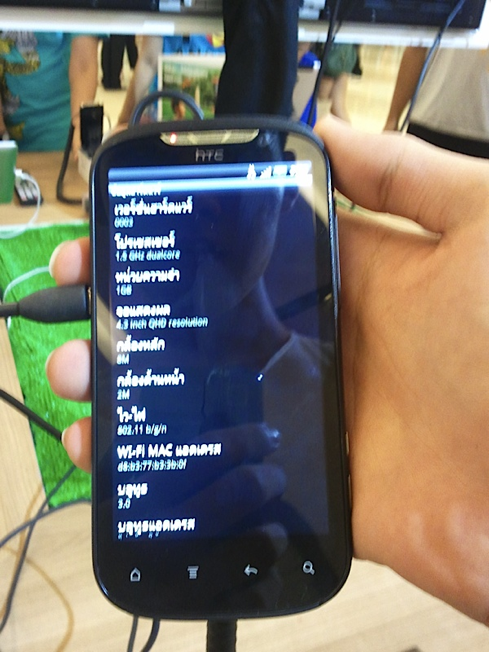 This isn't what we call a T-Mobile leak per se, but the HTC Ruby/Amaze 4G model has leaked out of Thailand according to local site Droid Sans. According to the site HTC is testing a new Android device that is capable of DC-HSPA+ speeds in Thailand which further gives us hope that this device is capable of 42Mbps data speeds.
The images in the pictures themselves match the ones we've seen leak with T-Mobile branding and although these are a different color the hardware seems to match spot on. According to the Droid Sans  site this device being test is a 4.3″, 960×540 qHD, 8-megapixel camera with dual-LED flash and a 1.5GHz dual-core CPU. The device being handled also has 1GB or RAM inside as well as 16GB of storage, Android 2.3 running along with Sense 3.5 running on top of that. The design of the phone itself does match the earlier viewed leaked images of the HTC Ruby so we're inclined to believe this is the same phone, just in black. If our ninjas are correct, the HTC Ruby/Amaze 4G for T-Mobile will come in at least two color models as well.
Until we know more about the T-Mobile branded edition check out these five images and feast your eyes on something you'll soon be able to hold in your own hand.