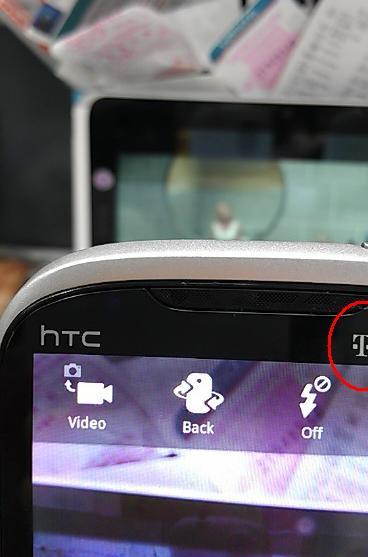 Thanks to Flickr we're getting what are possibly some of the first spy shots of the upcoming HTC Ruby which has the clear makings of a T-Mobile logo in the upper right hand corner. The boys at Pocket Now who uncovered these shots are saying the image itself was taken with an HTC Ruby so we should add that we aren't 100% positive that the T-Mobile branded phone we are seeing is the HTC Ruby. Either way the T-Mobile branded phone doesn't look familiar so we're likely looking at something that will land on T-Mobile eventually.
While an earlier leak yesterday had lead some to speculate that the HTC Ruby would in fact be a Windows Phone 7 device it's pretty clear that the phone we are seeing in the image is running Android. Though we emphasize again that the HTC Ruby is the phone that took the picture, not necessarily the phone we are seeing in the picture. The second shot gives away a little more information about the device as we can locate a headphone jack and a dual-LED rear-facing camera though that's about all we know regarding the camera.
Let the speculation begin!