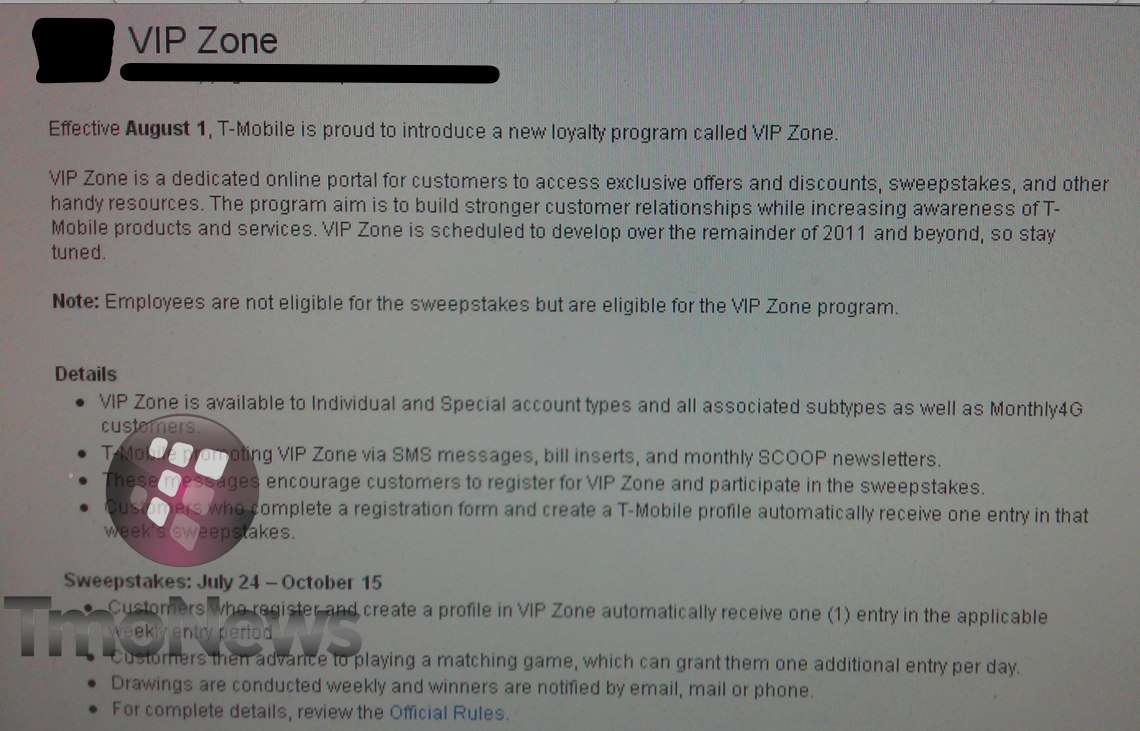 Updated: Thanks to an eagle-eyed reader (thanks Oregon user themykel!) who found a job description courtesy of career builder for this new loyalty program. 
T-Mobile USA is a national provider of wireless voice, messaging, and data services capable of reaching over 268 million Americans where they live, work, and play. In a world full of busy and fragmented lives, we at T-Mobile USA, Inc. have the idea that wireless communications can help. The value of our plans, the breadth of our coverage, the reliability of our network, and the quality of our service are meant to do one thing; help you stick together with the people who make your life come alive. That's why we're here. 


Sr Segment Marketing Manager – Loyalty Management 

This position will drive strategic marketing programs and initiatives from strategy development, execution and value creation. T-Mobile is launching a new loyalty program called VIP Zone and this role will manage this program and continue developing/refining the program. The role requires strong cross functional partnership to align on value propositions and overall marketing calendar elements, with marketing planning and analysis on potential promotion/pricing strategies, business tracking and analysis, with Consumer Insights on consumer understanding, and with the new products team on product roadmap. 

Duties and Responsibilities 

Owns the development and implementation of the VIP Zone, a new and exciting rewards and loyalty program

Works with creative merchandising and advertising along with the CRM agency on creation of best value propositions and overall marketing calendar for VIP Zone.

Partner with various business owners to promote relevant products and services in the VIP Zone

Partner with consumer insights and marketing planning and analysis to understand customer needs, wants and behaviors to create effective marketing programs/campaigns that drive customer growth, revenue, customer experience, and loyalty.

Support group level marketing plan development and execution efforts.
Also responsible for other duties as assigned by business management as needed.
Prepares presentations for various audiences ranging from peers to executive level.
T-Mobile is introducing a brand new loyalty program for T-Mobile customers appropriately dubbed "VIP Zone" with "exclusive offers and discounts, sweepstakes and other handy resources." VIP Zone is a program whose goal is to enhance the customer relationship while increasing T-Mobile's brand appeal combined with a look at T-Mobile products and services. The program is set to be introduced today with continued development throughout the rest of 2011.
While we don't know much about the program we read tho as being limited to specific account types, such as old versus new or based on tenure. It looks as though the customer will complete registration to the VIP Zone website and then retain access with weekly sweepstakes. VIP Zone will be available to individual account holders, family plan users as well as Monthly4G customers.
That's about all we have to go on right now but as today is August 1st we'll just sit back and hope that T-Mobile makes an announcement introducing the new program very soon.