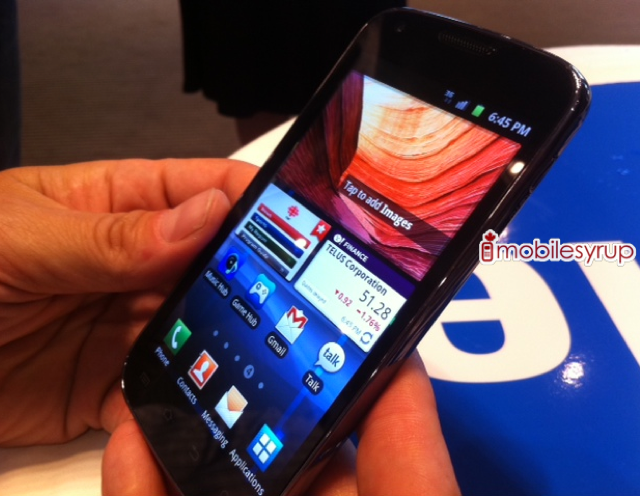 Is it possible? Can it be? Are we looking at what is possibly the first sighting in the wild of the Samsung Hercules? At first glance it looks almost exactly like the Samsung Galaxy S 2, the Samsung model the Hercules is based off of. Except that this is a 4.5″ screen according to the folks at MobileSyrup who got their hands on the image courtesy of a tipster that attended a Samsung Mobile concert last night in Canada. Rumored to be the first 42Mbps smartphone in Canada rumor has it will take the very same honor here in the States. The Hercules sports an 8 megapixel camera on rear that shoots 1080i video along with a rumored 2 megapixel front facing camera. A noticeable absence in this picture is the optical trackpad the Galaxy S 2 has on board, instead showing off the standardized capacitive four button layout that is so common on Android devices these days.
We thought it would be worth pointing out an interesting comment on MobileSyrup that provides some food for thought that we could be looking at the Hercules:
TELUS seems to have a nack for snatching up T-Mo variants of phones but get them with 950/1900MHz 3G. They did it by getting the T-Mo's version of the Galaxy S. They did it again with the T-Mo Galaxy S 4G. It only made sense that they would be getting the T-Mo rumored Hercules.
It's hardly concrete information but we tend to believe that this commenter is on to something. At this point it would be incredibly preliminary to say for sure that this is the Samsung Hercules but seeing as how there is at least some noticeable difference between the Galaxy S 2 and the pictured model, we'll just cross our fingers, click our heels three times and hope for the best.