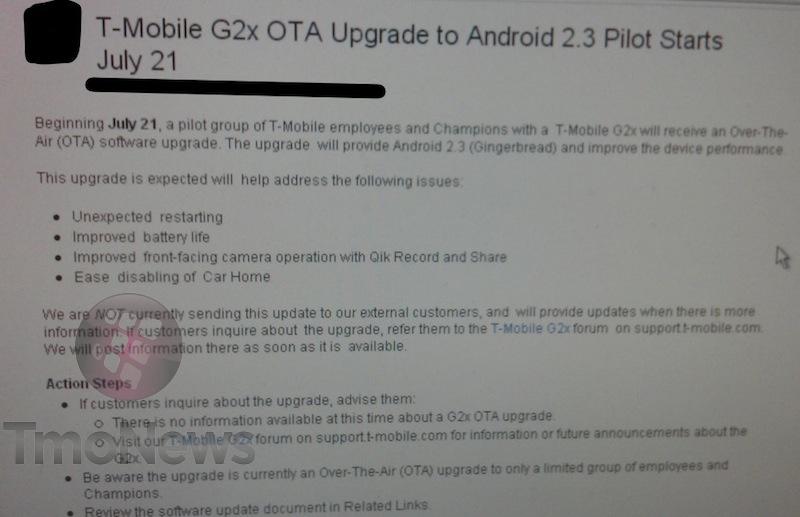 Look out world the T-Mobile G2x update is finally being seeded to T-Mobile employees, at least a select group in a pilot test to help address any problems the update might contain. Let's just get right down to it and ask what does the G2x Gingerbread update fix other than bringing Gingerbread goodness to the G2x?
Unexpected restarting
Improved battery life
Improved front-facing camera operation with Qik Record and Share
Ease disabling of car home
Of course you can see the emphasis on this not being customer ready and NOT being sent out to the general public yet so don't even bother calling T-Mobile and asking for it, odds are they won't know anything about it.
Of course this news comes on the heels of an earlier post this morning which provided a link to get your hands on the G2x update early through the LG Software Updater. We absolutely recommend this method and emphasize that calling T-Mobile at this point to ask about this upgrade is just useless as they honestly don't know anything about it. 
The best news is that T-Mobile is seeding an update to employees which means the update is super close to being finalized and ready for public consumption. So right now we just have to sit back and wait. For G2x owners who have waited for far to long today's news has to be met with open arms that an update is finally close…just a little bit longer.
For employees who might ask how they can get in on this update, if you have to ask…you aren't going to get it any earlier as far as we can tell. You'll have to wait like the rest of us!