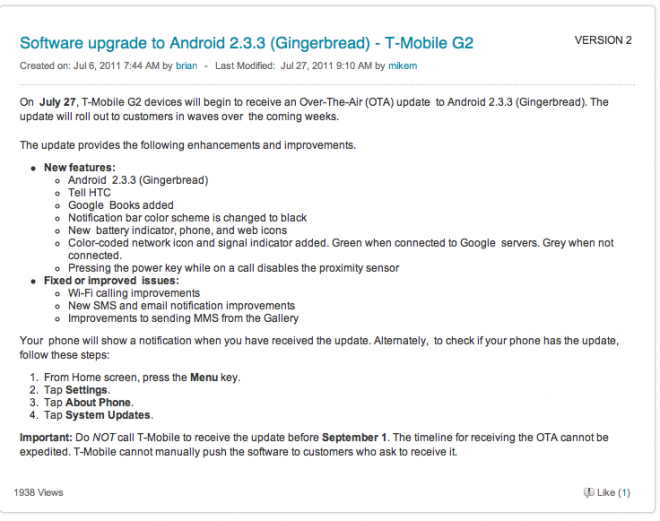 Greeeeeeat news T-Mobile G2 owners as today is a magical day for you. That's right I'm talking about a Gingerbread OTA update that begins today and will rollout over the next few weeks to all G2 owners. This has been a great week for T-Mobile Android owners who are finally seeing a long promised Gingerbread update arrive. Let's just get right to the meat of this and tell you what's in store:
Android 2.3.3
Google Books added
Notification color scheme is now black
New battery indicator, phone and web icons
Color-coded network icon and signal indicator
Pressing the power key on a call disables the proximity sensor
Wi-Fi improvements
New SMS and email notification improvements
Improvements to sending MMS from the Gallery
If you aren't willing to wait for the OTA to come to you, you can try and go to it by using the following steps:
Press the MENU key
Tap SETTINGS
Tap ABOUT PHONE
Tap SYSTEM UPDATES
Note this line from the support document which I'm emphasizing in bold capital letters so people are sure to read it:
IMPORTANT: DO NOT CALL T-MOBILE TO RECEIVE THE UPDATE BEFORE SEPTEMBER 1. THE TIMELINE FOR RECEIVING THE OTA CANNOT BE EXPEDITED. T-MOBILE CANNOT MANUALLY PUSH THE SOFTWARE TO CUSTOMERS WHO ASK TO RECEIVE IT. 
Hope you all got that last part!