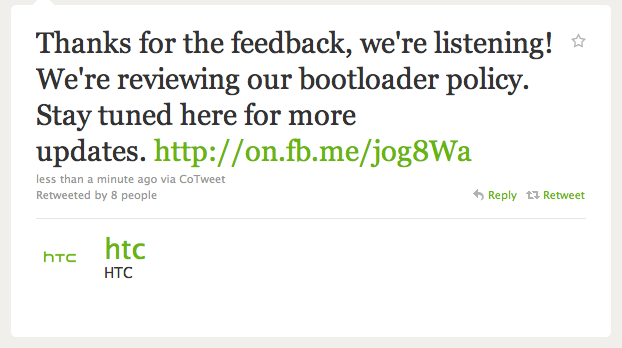 We're about to give HTC a pat on the back as they are listening to the complaints of HTC owners who are upset with their locked bootloader policy. HTC hears you and while that's they aren't promising a policy reversal at the very least HTC is acknowledging complaints. Samsung should take note of this next time they want to look back at the Vibrant Froyo debacle and rethink their decision to remain quiet.
For the unfamiliar, the terms "bootloader," and "NAND memory" which are the key ingredients to those custom ROMs you enjoy so much. Tech blogs are all to familiar with the loud and resilient Android community who put so much faith into the modding of Android devices and claims of their openness.
HTC put forth their message on Facebook and Twitter. Their Facebook comment was a little longer than Twitter thanks to the lack of character limits:
Thanks so much for providing feedback, we hear your concerns. Your satisfaction is a top priority for us and we're working hard to ensure you have great experiences with our phones. We're reviewing the issue and our policy around bootloaders and will provide more information soon. Thank you for your interest, support and willingness to share your feedback.
And on Twitter:
Thanks for the feedback, we're listening! We're reviewing our bootloader policy. Stay tuned for more updates.