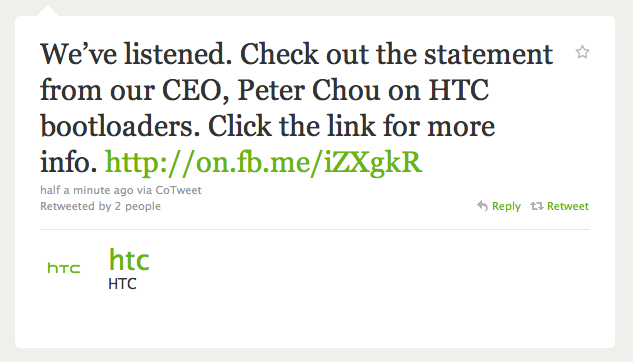 HTC just dropped a game changing decision for the Android community by announcing they are dropping their locked bootloader policy. Having released a statement earlier this week HTC promised to review the policy having listened to customer complaints. As it turns out, HTC did listen and listen well and this is sure to earn them quite a few brownie points in the modding world. Bravo HTC.
"There has been overwhelmingly customer feedback that people want access to open bootloaders on HTC phones. I want you to know that we've listened. Today, I'm confirming we will no longer be locking the bootloaders on our devices. Thanks for your passion, support and patience," Peter Chou, CEO of HTC
No word on how this will effect devices currently in the release pipeline like the HTC Sensation 4G but we'll be sure to ask!