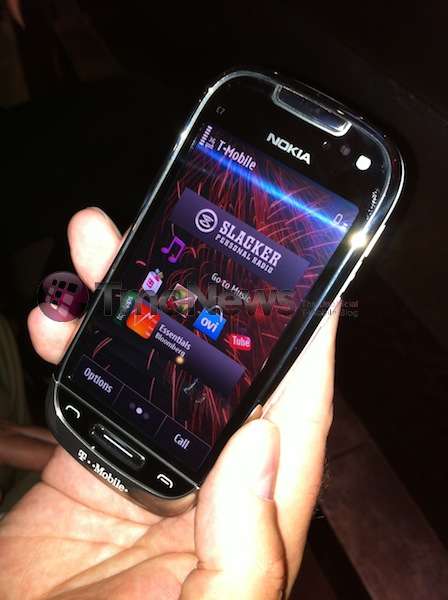 While the Nokia Astound won't be the biggest handset news from T-Mobile at CTIA, it's the second T-Mobile phone to deliver an 8 megapixel camera. For a small handset however, its packing quite the punch! As expected the Astound will arrive on T-Mobile shelves on April 6th for $79.99 after rebate.
The Nokia Astound will feature a 3.5″ capacitive touch AMOLED display with a dual-LED flash on board an 8 megapixel camera. Capable of uploading 720p video along with free turn by turn directions through Nokia and Ovi, the Astound won't win over the Android faithful but it's certainly got some appeal. You can hit all the details below in the full press release and our gallery from the Nokia Event! We'll have some video up tomorrow for you!
Nokia delivers Astounding smartphone for T-Mobile USA customers
WHITE PLAINS, NY, and ORLANDO, Fla., March 22, 2011 – Inspired by U.S. consumers who want an affordable smartphone that offers a simplified user experience and on-the-go entertainment, Nokia today continues to broaden its Symbian smartphone portfolio with the introduction of the Nokia Astound. Offering value without compromise, the Nokia Astound will be available exclusively from T-Mobile USA beginning April 6.
The Nokia Astound's sleek stainless-steel design features an 8-megapixel camera with dual-LED flash and 720p HD video capture, a brilliant 3.5-inch capacitive touch AMOLED display, free turn-by-turn navigation from Nokia and access to thousands of free and paid apps via Nokia's Ovi Store. The Nokia Astound makes it easy for consumers to stay connected. The Astound has three fully customizable homescreens, giving quick access to email, and the ability to check the latest from Facebook and Twitter, or just surf the web. Consumers can kick back and enjoy the Astound's entertainment features by playing pre-loaded games like Fruit Ninja, listening to the lastest music with the Slacker Radio app, or browsing their own music and video collection, right at their fingertips.
"As millions more consumers make the switch to smartphones, Nokia is proud to offer an alternative that is not only easy and fun to use, but is also very sexy and sleek, unlike anything in its price point," said Mark Slater, vice president of sales, Nokia. "With a user experience rounded out by Nokia's Ovi services, including Maps and Store, consumers will be delighted to discover Nokia's premium design quality with no compromises on services and apps, made affordable with T-Mobile."
"As T-Mobile continues to make owning a smartphone easy and affordable, we are thrilled to introduce the high- quality design and entertainment experience of the Nokia Astound," said Andrew Morrison, vice president, product management, T-Mobile USA. "Offering the features of a high-end smartphone at a great price, the Nokia Astound is sure to appeal to a broad array of consumers."
Uniquely crafted, the Nokia Astound is an example of the quality and impressive hardware that consumers associate with Nokia. Its AMOLED touchscreen is protected by ultrathin, damage-resistant glass and surrounded by stainless steel, which completes the attractive yet durable design.
Equipped with the latest commercial version of Ovi Maps1, the Nokia Astound provides free voice-guided, turn-by- turn navigation in almost 100 countries in 46 languages. The Nokia Astound comes pre-loaded with automotive grade maps for the entire U.S., Canada, Mexico and the Caribbean2. With more than 8,000 3D landmarks and free premium content like Lonely Planet guides and Tripadvisor, consumers can explore new places and experiences along the way. New features include improved search engines and WiFi positioning, a drive assistance mode for real-time traffic updates, maps of public transit lines, and the ability to check in to places and share great moments with friends on Facebook, Twitter and many local social networks.
With the Nokia Astound, consumers can visit Ovi Store to discover new apps, games and themes to customize their device. Each week, Ovi Store continues to grow and add more great content that supports 32 languages in more than 190 countries. Currently, Ovi Store sees more than 4 million downloads worldwide per day, including popular apps and games like Angry Birds, OpenTable, Shazam and Galaxy on Fire. As an added convenience, apps and services can be billed directly to a consumer's monthly T-Mobile bill or credit card.
Visitors at CTIA Wireless in Orlando, Fla., can visit the Nokia Lounge, booth #1626, to experience the Astound along with other Nokia solutions and meet developers who are creating compelling apps and content for consumers to enjoy on Nokia devices.
Availability
1 Ovi Maps uses automotive grade maps from NAVTEQ, the leading global provider of maps, traffic and location data. 2 Additional contries and languages are available to download free from Nokia. Data charges may apply.
PRESS RELEASE 1 (2)The Nokia Astound will be available nationwide starting April 6 through T-Mobile retail stores and online at http://www.t-mobile.com for $79.99 after a $50 mail-in rebate card with a two-year service agreement and qualifying voice and data plan.
The Nokia Astound will also be offered at select third-party dealers, and at leading national retailers including Costco, RadioShack, Sam's Club, Target Mobile locations and Walmart. For more information, visit http://www.nokiausa.com/astound.