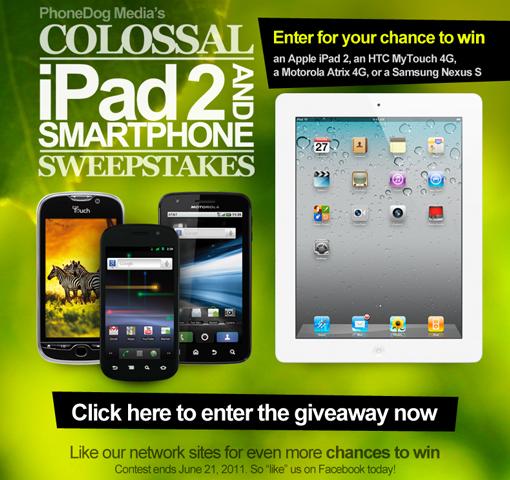 Our boys at PhoneDog are back again ready to give away more prizes and we're back on board with making this the biggest, baddest contest ever! This time things are happening a little differently from the last contest which had a huge buildup and you had to wait weeks and weeks to see if you won. This time prizes will be handed out twice a week, every Tuesday and Thursday every evening at 6pm EST. BOOM!
So what can you win? Well iPads are the hot commodity these days so they are back along with whatever the hot smartphone is for the month. Right now you're looking at prizes including the Google Nexus S, Motorola Atrix 4G or a T-Mobile myTouch 4G. Not bad huh?
We'll be posting updates and reminders throughout the contest but you should check the PhoneDog mother page for all the details, terms and conditions. This PhoneDog page is where you should ask any questions you might have, the PhoneDog team will be ONLY be answering questions on that page!
This is the PhoneDog way of saying thank you for reading and spending time being apart of their family. We're happy to be involved yet again with our good PhoneDog friends. Of course, Aaron and I will always have Vegas! Shhh, don't tell him I said that.
Good luck!
Hit this link for the full run down of terms and conditions, you should read these before entering!
All you have to do is accept and submit the sweepstakes entry form at http://apps.facebook.com/pdsweepstakes and "LIKE" facebook.com/phonedog and/or any of our other network sites from the time of registration through the sweepstakes period.  Existing PhoneDog Facebook fans are able to enter as well – just go into the sweepstakes app and submit the entry, and you're entered to win!  A total of nine (9) direct entries can be obtained immediately – one (1) for liking PhoneDog's Facebook page, one additional entry for each partner page that you like, plus one more for choosing a prize.
In addition to the nine direct entries, up-to 30 friend referral tickets are available.  All you have to do is invite your friends to join the sweepstakes by utilizing the "Increase your Chances" tab on the entry app http://apps.facebook.com/pdsweepstakes.  For each friend that enters the game through the invite process, you will receive an additional ticket number, increasing your chances of winning.
The Colossal iPad 2 and Smartphone Sweepstakes runs until June 21, 2011 at 5 PM EST/2 PM PST.  Winners will be selected starting on March 22, 2011 via a live broadcast on PhoneDog's UStream broadcast page  (http://bit.ly/PhoneDogTV) at 6 PM EST/3 PM PST.  For more information on drawings, event times, and dates, check outhttp://on.fb.me/pdevents.  Additionally, you can always view your total entries and ticket numbers by going to the "MY ENTRIES" tab within the sweepstakes application.