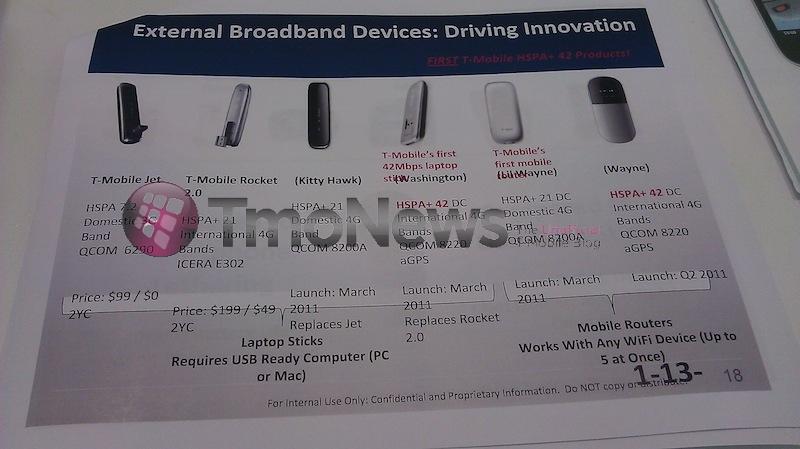 T-Mobile is definitely looking to boost its 4G data stick offerings presumably with a resurgence in efforts to capture some of the business 2 business space. Between the two images we've acquired we can see that T-Mobile is prepping to launch a replacement of the current T-Mobile Jet, which currently offers HSPA+ speeds of 21Mbps. Codenamed "Kitty Hawk," we'll be seeing this drop sometime in March 2011.
The "Washington," which will be T-Mobile's first device to offer HSPA+ speeds of 42Mbps will drop sometime in March 2011. We suspect this could be the data stick we got a preview of during T-Mobile's press event in Las Vegas where speeds of 28Mbps where attained.
We've already previewed the codename "Wayne," to you before, but this time we find there is both a "Lil Wayne" and a "Wayne" which we will just call "Big Wayne" for fun. Both "Wayne's" are T-mobile's first Mobile Routers capable of connecting with up to 5 devices at once and providing HSPA+ speeds of 21Mbps on Lil Wayne and 42Mbps on the larger Wayne. With T-Mobile expected to drop 25+ 4G devices this year we expect that their first entries into the Mobile Router space will see some heavy promotion with redoubled efforts on the B2B space as well as personal use.
Last but not least the bottom pic gives way to T-Mobile preparing to introduce the Dell 14R Notebook which will have built in support for T-Mobile HSPA+ speeds. Unfortunately there is no reference as to whether or not the upcoming Dell 14R would run on HSPA+ speeds of 21 or 42Mbps but we'll hope for the latter and be happy with the former.
I hope that T-Mobile is using the strength of it's 4G network to heavily promote these upcoming mobile routers with a strong focus on the business market. There is definitely a large opportunity for T-Mobile to showcase HSPA+ speeds theoretically capable of 42Mbps combined with competitive pricing to businesses both large and small.
Then again, I wouldn't mind having "Wayne" at my disposal either!