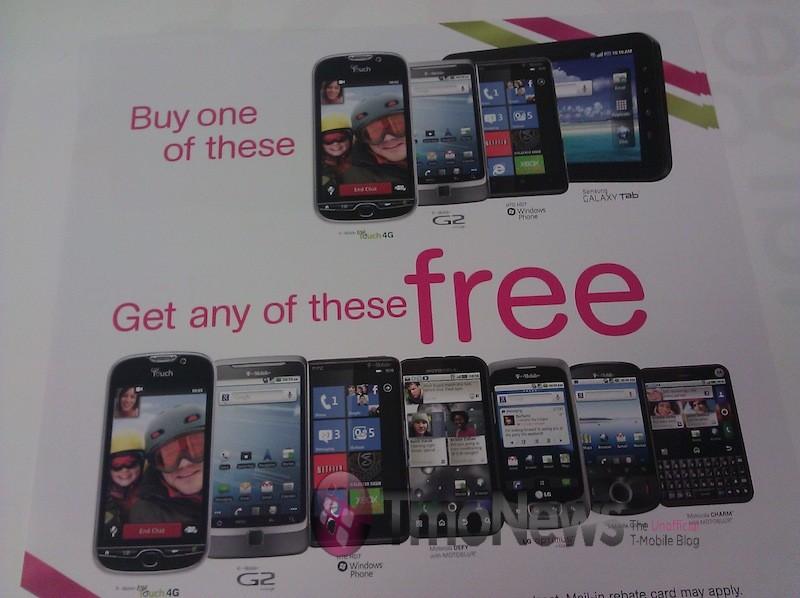 Well, I hope everyone had an excellent Thanksgiving Day with lots of turkey, stuffing and dessert!  This is your Black Friday reminder that T-Mobile has a BOGO going on starting today and running through January 18th!  If you've been eyeing that HD7 or that myTouch4G, this would be a great time to try and convince a family member to do an upgrade along with you!
Reminder: The promotion is available on all T-Mobile family plans, including legacy and Even More, for new customers who activate two or more lines.  Existing T-Mobile customers can take advantage of the BOGO but they will need to add two lines or upgrade an existing eligible line and add a line or upgrade two lines to be eligible.  Flex pay family plan customers do not qualify.  When using the BOGO for the Samsung Galaxy Tab, the customer does not have to be on or activate a family plan, however the "get one" will have to be on a family plan
Double Reminder: The above image is just a pic I used for this post, it is NOT the only combination of phones you can make, mmmkay?
Triple Reminder: Want even better deals?  Remember to check out Wirefly, Amazon, Letstalk, Best Buy or Walmart for some great offers!