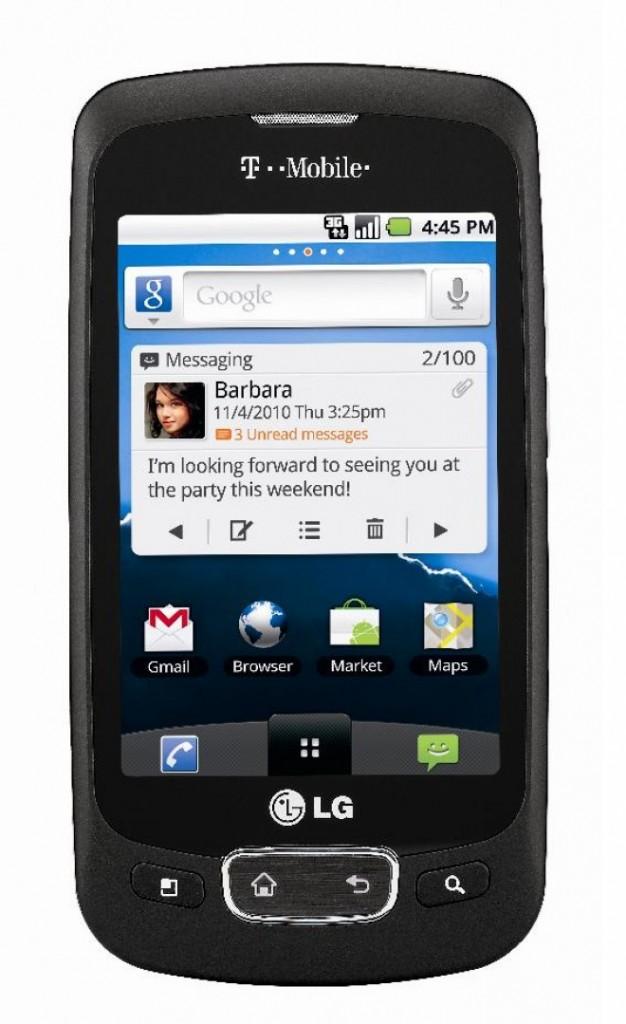 T-Mobile and LG have officially introduced the LG Optimus, an affordably priced and easy to use smartphone joining T-Mobile's growing Android lineup. Equipped with a 3.2 megapixel camera, a pre-installed 2 GB microSD card, 3.2 capacitive touchscreen, the LG is perfect for those making the leap from feature-phone to smartphone. Running on Android 2.2 the Optimus may not have the pizzazz of the myTouch or the G2, but it certainly fits the bill for a perfect introduction to the Android platform.
While it's not explicitly stated in the press release, we believe based on earlier leaked info that the LG will include Wi-Fi calling upon launch. Stay tuned for details!
T-Mobile and LG Mobile Phones Offer a Simple-to-Use, Affordable Android
Device for First-Time Smartphone Customers – LG Optimus T with Google
Exclusive to T-Mobile customers, LG Optimus T offers Android 2.2, Voice Actions for Android and one-touch access to popular Google services to keep customers connected while on the go
BELLEVUE, Wash. — Oct. 6, 2010 — T-Mobile USA, Inc. and LG Mobile Phones today announced the latest easy-to-use and affordably priced smartphone to join T-Mobile's extensive Android™ portfolio, LG Optimus T™. Equipped with the latest Android platform, LG Optimus T features a responsive touch screen sleek form-factor and deep integration of Google™ services, including Voice Actions.
LG Optimus T makes staying connected to friends and family while on the go a quick, one-touch process. Using Voice Actions for Android, customers can control their Android-powered phone by speaking commands to call, text, e-mail and even find directions on a map, among other tasks. LG Optimus T also offers customers close integration with popular Google services, such as Google Search™ (also by voice), Gmail™, Google Talk™ and Google Maps™.
"This holiday season, Android smartphones will be at the top of the wish list for multiple members of the family," said Saj Sahay, director, product management, T-Mobile USA. "With the LG Optimus T, T-Mobile is helping customers who have not yet made the transition to the world of smartphones with an easy-to-use and affordable option."
With access to Android Market™, LG Optimus T customers can download and personalize their phone with thousands of free and paid applications. In addition, the customizable home screen, expandable up to seven panes, on the Optimus T keeps life simple by bringing what matters most upfront and center, including favorite applications and widgets. The Optimus T comes equipped with a 3.2-megapixel autofocus camera with video capture, as well as pre-installed 2 GB microSD card and support for up to 32 GB of removable memory.
"LG Optimus T allows T-Mobile users to create a smartphone experience unique to their lifestyle and everyday needs," said Ehtisham Rabbani, corporate vice president of marketing and innovation for LG Mobile Phones. "With Google features and a stylish design, LG Optimus T is the ideal device for first-time smartphone users ready to explore the Android world."
Availability
Offered in a Burgundy or Titanium finish, the LG Optimus T is expected to be exclusively available to T-Mobile customers this holiday season. For more information about T-Mobile products and services, please visit http://www.T-Mobile.com.