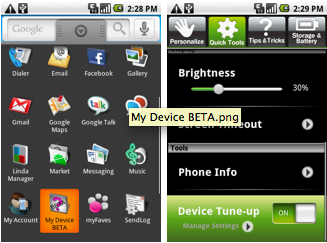 Update: As most of you have already discovered, the beta is closed for today but will re-open tomorrow morning!
Well, I've got to hand it to T-Mobile.  Applications like this should be included every time a phone is sold.  Announcing… the Android Device Tune-up Beta program.  Since their words are better at explaining this than mine, I'll just throw in how T-Mobile describes it:
T-Mobile is continually looking for ways to bring new innovation to our customers.  Within the My Account application, we are adding new functionality in the My Device section called Device Tune-up.  Device Tune-up is built to run in the background at all times and 'tune-up' the device by closing unused services that are running.
Device Tune-up is different from most task killers because it does not require you to do anything. Device Tune-up will default to 'on'.  While on, Device Tune-up proactively closes services to help the device and battery perform at their best. Most pre-loaded applications will not be affected by Device Tune-up. For our non-technical users, this may mean you never even realize Device Tune-up is running; your device may simply run better.
Getting Help & Providing Feedback:
Do not contact Customer Care for help or feedback regarding the Device Tune-up Beta.
We are looking for as much feedback as we can get!  If you need any help at all, please post any questions, issues or suggestions you have in our Device Tune-up Beta board. We will do our best to help you as quickly as we can.
Requirements:
This beta will work on all T-Mobile Android devices running 2.1 and below. If installed on a device using 2.2, the you may see the My Device BETA icon but you will not have the Device Tune-up functionality.
This beta has not been tested on any devices running custom software outside of T-Mobile approved versions.  It is recommended you do not install this beta if you are running a custom ROM.
Hit the link here for the entire install instructions and let us know below how its working on your Android device!
Via T-Mobile Forums