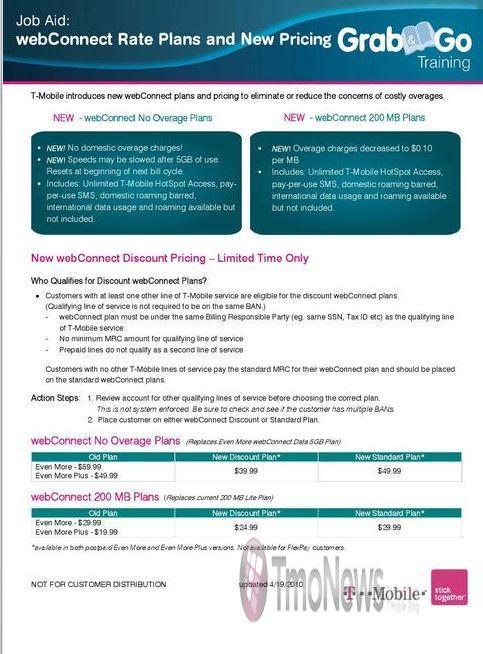 Update: We've gotten solid tips that this plan will start April 23rd and run for an unknown period!
T-Mobile is going to bring some savings to the T-Mobile faithful starting in the next few days with some awesome savings on the webConnect rate plans.  The limited time promotion brings no more domestic overage charges!  I don't know about you guys but 5GB is really pushing it some months so I'm happy to see the word "overage" disappear!  Of course, it's not all sunshine and rainbows as T-Mobile will reduce your speeds once you hit that 5GB mark and reset your speeds with the start of the next bill cycle.  Therefore, if you are a customer and looking to grab some webConnect time, Even More and Even More Plus fans are in for a treat with a discounted price at $39.99 for Even More Plus and $49.99 for Even More!  If you aren't a T-Mobile customer, sadly you will be paying the standard price of $49.99/$59.99 depending on your choice of Even More/Even More Plus but if you have a qualifying line of service, discount!  In the world of competitive wireless deals, a $10 savings can mean the difference between a customer switching carriers so I'm hoping T-Mobile can really push this deal and win over some users to the webConnect side.  Unfortunately, the big 3 have a leg up on data usage and marketing so T-Mobile had better make a big push to highlight this limited time pricing!
No word on dates for this promotion, but we'll update as we find out more.
Hit the jump for a competitive analysis!