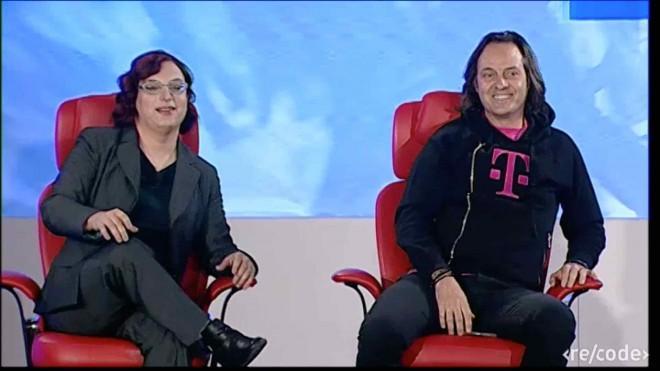 As I'm sure you already know, John Legere was interviewed at Re/code's Code/Mobile event last night by the respected journalist, Ina "not as scary as Kara" Fried. During the questioning, Legere – in his typical style – answered questions on quarterly performance, the competition and the iPhone. And if you've watched any of his interviews before, there's nothing mind-blowingly insightful here. But nevertheless, still some interesting anecdotes and "factoids" and it's certainly well worth the watch. I certainly got a giggle out of his admission that he follows Kim Kardashian on Twitter.
And at one point, when – at the end of the interview – attendees were supposed to be quizzing him, Legere turned it around on the audience asking how many were dissatisfied with their current carriers. This was after discovering that most of them were with Verizon or AT&T, and slightly before he got up off his chair to fist-pump in delight.
On a more serious note, it was encouraging to hear how T-Mobile is performing against its targets. In virtually every measurable metric, T-Mo is ahead of where it was aiming to be. It's adding a ridiculous number of new subscribers, expanding and upgrading coverage and porting in more customers than its losing to its rivals. That's even after Sprint announced its latest competitive plans.
Watch the full interview below: