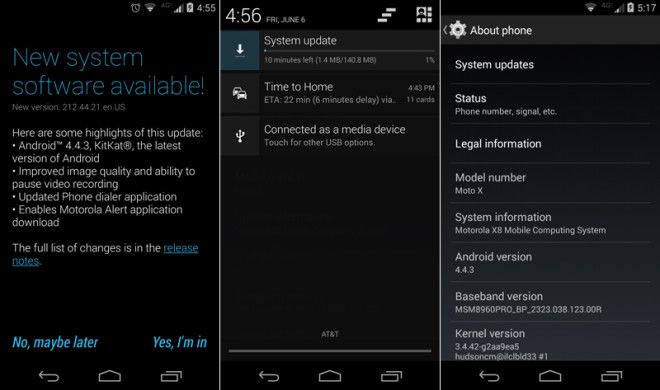 If you're one of the few T-Mo users rocking a Moto X, you'll be glad to know the latest version of Android – version 4.4.3 – has landed. If you haven't received a notification to download in the past 24 hours, you should check your settings for software updates manually, and it'll more than likely be there. News of the update comes just one week after Motorola announced a 'soak test' for pre-release testing.
Here's the full change log:
Android™ 4.4.3, KitKat®: Android 4.4.3, KitKat, is the latest release of the Android platform. This release includes several stability, framework and security fixes in addition to accuracy improvements to the power profile.
Camera – Improved image quality: Improved camera image quality including better consistency of exposure, more realistic flash coloring, improved photos in low light conditions using front camera.
Camera – Pause video recording: Added the ability to pause video recording with a convenient pause/resume button on the viewfinder.
Updated Phone dialer: Updated Phone dialer with a new graphical layout and colors to improve consistency and usability.
Enables Motorola Alert Application download: New Motorola Alert application sends periodic alerts with your location to your selected contacts. Now available for download from the Google Play Store.
Let us know if you download it successfully, and – of course – if you're enjoying the the update.