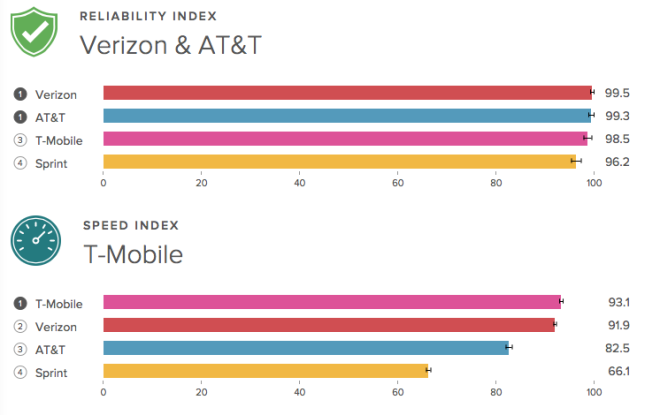 There was once a time in T-Mobile's recent history when John Legere would lambast results from RootMetrics' network survey reports. But I have a feeling that might change soon. The company's most recent results from some of the major metro areas are painting T-Mo in a very good light. Two separate, recently published reports suggest that T-Mobile has one of the best networks around.
In Kansas City, T-Mobile's network tied with Verizon for top spot. The area was tested between May 16th and 23rd and our favorite carrier ended up with a RootScore of 97.2. For those of you unaware, the RootScore is calculated by taking in to account the reliability index and speed index scores. In KC, T-Mo's was the fastest with a score of 93.1 ahead of Verizon's 91.9, AT&T's 82.5 and Sprint's paltry 66.1. Sadly, even in its own home town, Sprint isn't performing so well, even with its new Spark network live in the area.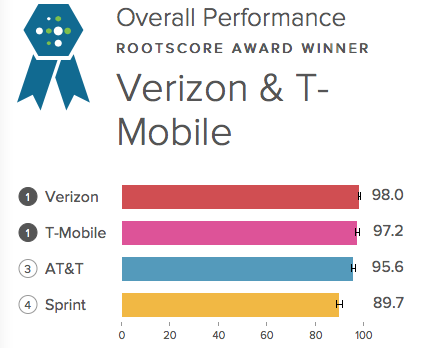 In Boston T-Mobile finished second overall with a RootScore of 95.6, some 1.2 points behind AT&T. Verizon was 3rd with 94.7, while Sprint – again – trailed in 4th spot with a score of 91.4. It's no surprise to see AT&T finish top in Boston. It's the 4th consecutive time Big Blue has been named the best network in that city.
As for network speed, T-Mobile yet again finished top with a speed index score of 90.2.
While T-Mobile's network isn't necessarily scoring badly in the reliability index, it does show that what we already know. If Magenta's service is going to be classed by RootMetrics as the best, it does need to improve its reliability. The sooner the 700MHz network is activated, and compatible phones are available, the better.