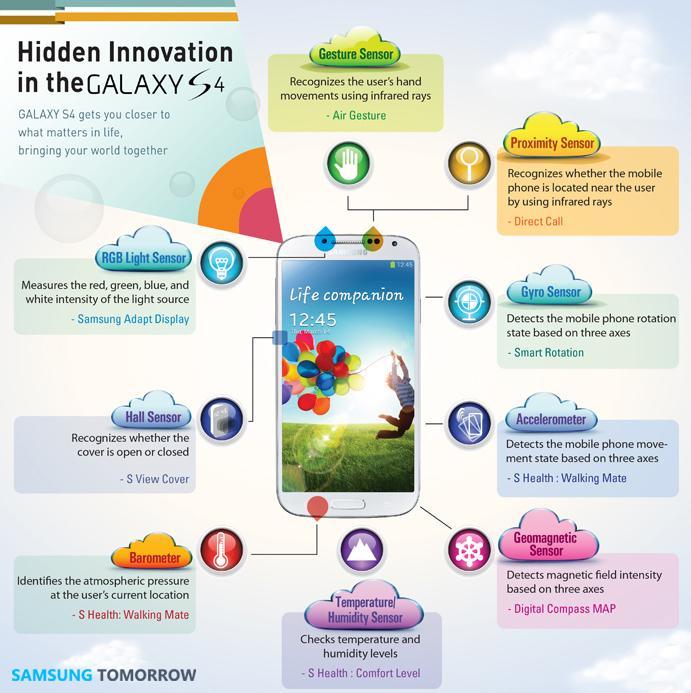 There's little question that the Samsung Galaxy S 4 is packing a lot of new features and functionalities under the hood. Samsung detailed a few of them on stage at their March 14th launch event, but is now expanding on the launch event with a new infographic highlighting the nine sensors tucked away inside the phone.
Posted to Samsung's official Tomorrow page, the graphic highlights the "wide array of innovative technologies" that differentiate the Galaxy S 4 from the competition. The nine sensors allow the device to understand the behavior of the user and thereby deliver an "effortless user experience." Samsung emphasizes that these features go beyond the basic functions like making phone calls or running applications, but work toward allowing the user to focus on themselves and allowing the device to "strip away the complications of life."
Samsung developed each innovative feature of the Galaxy S 4 based on consumer feedback and is a testament to the company's dedication to improving the end-user experience. It's true that some of these sensors are available on just about every touchscreen device including an accelerometer, proximity sensor, gyro sensor , etc. However, other sensors like the Gesture, Barometer, Temperature and RGB sensor are far less common and help make the Galaxy S 4 proudly wear its flagship name.
You can hit the Samsung Tomorrow link below for a far more detailed breakdown of the sensors as well as how Samsung developed a device to better understand user behavior.
The GALAXY S4, Samsung Electronics' latest flagship smartphone unveiled at Samsung Unpacked 2013, is designed to get users closer to what matters in life and bring their world together. Long before it was unveiled, in spectacular fashion at Radio City Music Hall in New York, interest was brewing around the globe. Now that the GALAXY S4 has been released, let's take a closer look at some of the truly innovative features it has to offer.

True innovation involves giving more meaning and comfort to the lives of users through new technologies. This is the unyielding philosophy that enabled the creation of the GALAXY S4.  Initially, users may be fascinated with the GALAXY S4's larger screen and battery capacity, all housed in a light and slim body, but as they learn more about the smartphone's features it becomes clear that innovative elements were reflected not only in the hardware, but also the GALAXY S4 features some truly dazzling sensor and recognition technologies.

The GALAXY S4 has seamlessly combined nine sensors and a wide array of recognition technologies that understand user behavior, thus delivering an effortless user experience, making things convenient and hassle-free. This goes beyond simple functions like making phone calls and running applications; users can focus on themselves and loved ones, with the GALAXY S4 working with them to strip away the complications of life.