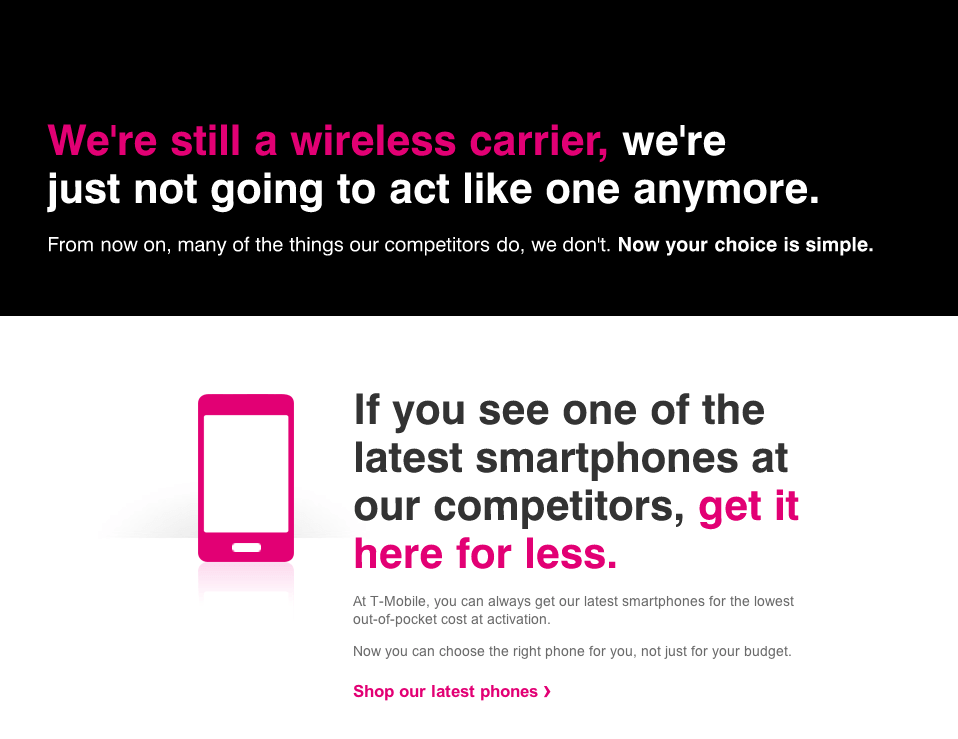 We had a pretty good idea that T-Mobile would kick off a brand new marketing campaign with UNcarrier and today we're seeing exactly what it is. Say your goodbyes to "Stick Together" and welcome "Simple Choice." T-Mobile's calling Simple Choice a:
Break from wireless industry norms, the Simple Choice plan eliminates restrictive annual service contracts and seeks to take the pain and confusion out of the wireless experience, by moving to one simple rate plan with unlimited text, talk and web — allowing customers to upgrade their devices anytime they want.
T-Mobile's newly announced Simple Choice branding will kick off with the "Western" film genre, previewed here. One thing is for certain, this is a brand new T-Mobile and they've got a fighting spirit, that's for damn sure.
Press Release: 
T-Mobile Makes Bold "Un-carrier" Moves

Announces radically simple unlimited plan; axes contracts, unbundles cost of plan and device with lowest upfront costs, lights up 4G LTE network

NEW YORK — March 26, 2013 — T-Mobile has been talking the talk; now it's walking the walk. The company, known for its "Un-carrier" attitude, today announced a series of moves to address consumer frustration with the unnecessary cost and complexity of wireless.

The moves include radically simplifying its lineup of consumer rate plans to one incredibly affordable plan for unlimited talk, text and Web; ensuring that customers never have to sign another annual service contract through T-Mobile retail outlets; and enabling customers to get the most popular smartphones whenever they want for the lowest upfront cost. T-Mobile also debuted its blazing fast 4G LTE network service in seven major metropolitan areas.

"These bold moves serve notice that T-Mobile is canceling its membership in the out-of-touch wireless club," said John Legere, president and CEO of T-Mobile USA, Inc. "This is an industry filled with ridiculously confusing contracts, limits on how much data you can use or when you can upgrade, and monthly bills that make little sense. As America's Un-carrier, we are changing all of that and bringing common sense to wireless."

Un-Restricted, Un-Limited

Central to today's announcement is a radically simple approach to consumer rate plans — the Simple Choice Plan. A break from industry norms, the Simple Choice Plan eliminates restrictive annual contracts, taking pain and confusion out of the wireless experience.

What could be simpler than one consumer rate plan?

Simple Choice asks customers two basic questions: How many lines do you need, and how much high-speed data would you like? Customers start with one line at $50 per month for unlimited talk, text and Web with 500MB of high-speed data. Customers can add a second phone line for $30 per month, and each additional line is just $10 per month. They can also add 2 GB of high-speed data for $10 per month more per line. Unlimited 4G data is only $20 more per month per line. No caps. No overages. Just simple value.

Also, because T-Mobile is the only major U.S. wireless company to stop requiring consumers to sign annual service contracts, customers have far more flexibility with how they buy and use wireless devices. Traditionally, getting a good deal on a new phone has meant agreeing to an expensive service for two years. Upgrades typically weren't allowed (without significant upfront costs) until contracts expired, and it was often difficult to ascertain the true value of a device offer because it was tied to a long-term annual contract.

With T-Mobile's un-restricted approach, customers can purchase great devices, pay for them in affordable, interest-free monthly installments, and upgrade anytime they like — not just when their carrier says it's okay. Customers can even use their own unlocked device. Monthly statements are easy to understand since the price stays constant from month to month, and the device cost is clear and unmistakable.

Customers can find more information about T-Mobile's Simple Choice Plan at nationwide T-Mobile retail stores, on http://www.T-Mobile.com, and through select dealers and national retail stores.