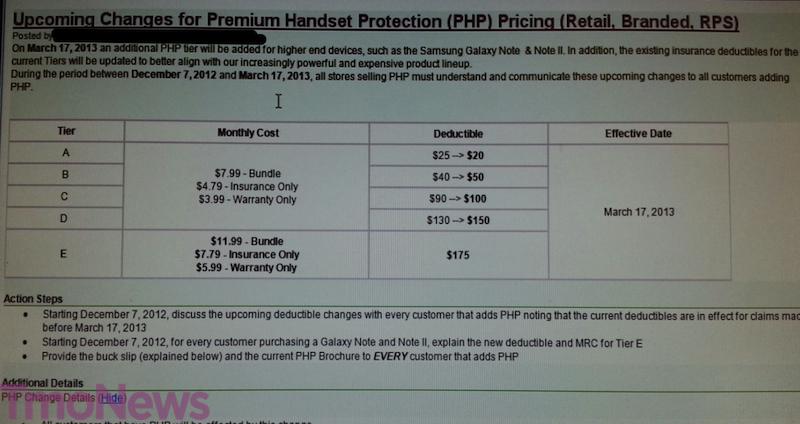 News of T-Mobile's impending changes for their Premium Handset Protection plans broke last week, but the real news here may not be the changes itself, but the date on which they occur. I'm going off the deep end with a theory that the March 17th date somehow correlates to the launch of T-Mobile's upcoming "Apple products." It's a shot in the dark to be certain and no, I don't have any concrete info to support it. The timing is just odd, and it's unlike T-Mobile to announce anything months in advance like this. Normally notifications for changes such as these occur around 30 days out, but the above image first arrived in my inbox at the tail end of November. That's almost 4.5 months of lead time and I can only imagine one device that would require such a timeframe.
Barring the handset specifics and wild theories that this may somehow be related to the iPhone, the changes themselves are also notable. Beginning March 17th, "an additional PHP tier will be added for higher end devices, such as the Samsung Galaxy Note and Note II. In addition, the existing insurance deductible for the current Tiers will be updated to better align with our increasingly powerful and expensive phone lineup."
On a separate note, these changes could also be related to the upcoming Value-Plan only experience T-Mobile will begin shifting over to, so it's just as possible the March 17th date is related to that as it is something Apple. Currently, only the Galaxy Note and Galaxy Note II will require the highest Tier, but it's likely the release of the iPhone down the road will also fit the bill for the same tier. AT&T hiked the cost of iPhone insurance up before the introduction of the iPhone 4S so there's some precedence for this move.
Still, in the end this could all just be at face value, T-Mobile is raising insurance rates for higher-cost handsets. I may be reading more into this than necessary, or maybe I just want to believe that March 17th date has more value than just Premium Handset Protection changes. I guess we'll find out for sure on March 17th.