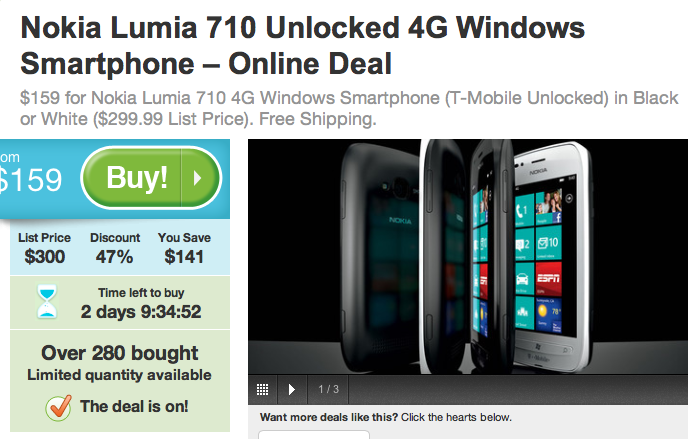 Todays deal alert comes courtesy of Groupon and a special offer for not one, but two devices. First up is an unlocked Nokia Lumia 710 for just $159, which is a steal against the $299 list price. While the Lumia 710 might soon take a backseat to the Windows Phone 8X and Lumia 810, for the price it's a hard deal to pass up. The Lumia 710 would make a perfect backup phone, introductory smartphone or for use on T-Mobile's prepaid offerings.
The next deal is a refurb Galaxy Tab 2 10.1″ tablet, which is coincidentally a tablet T-Mobile will soon stock on their own shelves running their HSPA+ network. If you're looking for a better deal than a carrier will offer, the $289 price tag for a refurbished unit is a steal. The Galaxy Tab 2 10.1″ features:
OS: Android™ 4.0, Ice Cream Sandwich
Processor: 1.0GHz, dual-core
Memory Capacity: 16GB
microSD™ Card Slot (Up to 32GB)
Display Screen: 10.1″
Display Resolution: WXGA (1280×800)
Display Type: TFT (PLS)
Battery Capacity: 7,000mAh
Color: Titanium Silver
Wireless Internet WiFi 802.11 b/g/n, WiFi Direct
Camera: 3MP rear-facing, VGA front-facing
These are only good for another 48 hours, so don't want too long.