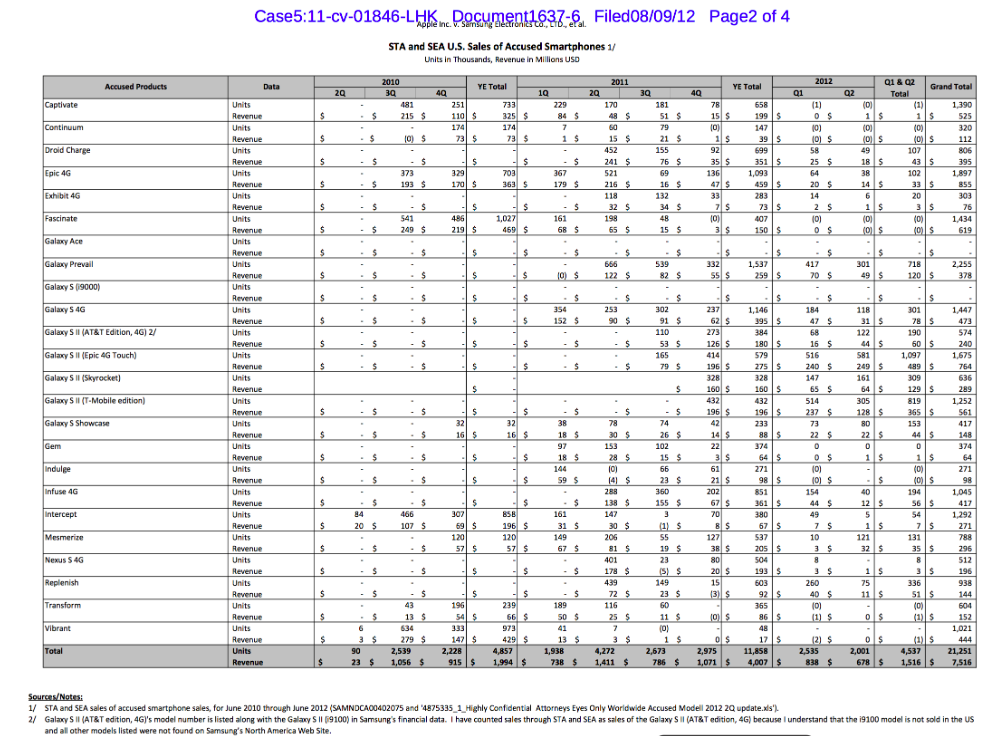 Ah yes, another day in the Apple vs Samsung trial that yields some interesting sales figures and stats. This time, we're getting a look at both companies sales figures beginning from when Samsung's original Galaxy series lineup first went on sale. Most important to us of course is how T-Mobile handsets have performed and thankfully, we can tell exactly that.
For the Samsung Vibrant, it sold close to 973,000 units in 2010 and 48,000 units in 2011 for a grand total of 1,021,000 units sold.
The Galaxy S 4G sold a whopping 1,146,000 in 2011 alone with an extra 301,000 in 2012 for a grand total of 1,447,000 units.
How about T-Mobile's Galaxy S II? Try 432,000 units in 2011 and 819,000 in 2012 for a grand total of 1,252,000 total units sold for T-Mobile.
Totaling up all three T-Mobile specific units, Samsung made 1.478 billion from T-Mobile units sold between 2010 and 2012.
Unless I'm reading this wrong, the only Nexus device I see on here is the Nexus S 4G, not the Nexus S which was sold in combination with T-Mobile.
All told, all the units Samsung is being accused of infringing on Apple patents sold more than 21 million units. Unfortunately for Samsung, their tablet sales were also disappointingly low with just 1.438 million sold against Apple's 34 million iPad sales.
After a break for the past two days, the Apple vs Samsung trial resumes again today, and hopefully today we'll find out something else neither company wants being made public.