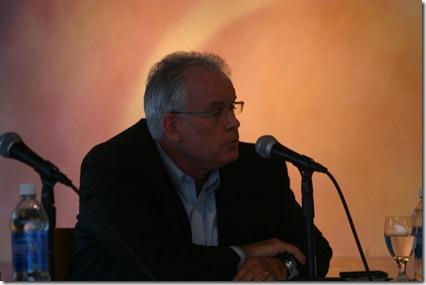 While T-Mobile may have hinted at the iPhone operating on their network later this year, a point reiterated this evening through a press release announcing the selection of vendors to build out their LTE network, they aren't saying if they will directly target iPhone users. Now, let's clarify one thing as this report follows reports from recent months that show T-Mobile is working to support the iPhone on their network with a 1900MHz refarming effort and not necessarily a sign they will sell the iPhone through a subsidy.
At a dinner event in New Orleans this evening, T-Mobile CTO Neville Ray said the effort to refarm the 1900 band would reach a critical point in the fourth quarter this year allowing T-Mobile to aggressively court AT&T subscribers that are no longer in contract.
Ray declined to say if T-Mobile will directly target these customers through any kind of marketing effort.
"It would make sense," Ray agreed, but added. "We're not there yet."
Back in March of this year, Ray indicated that part of T-Mobile's refarming effort would be to allow their customer base a greater selection of devices:
A nice side benefit of the refarming effort is that our 4G network will be compatible with a broader range of devices, including the iPhone. The other important benefit of our network modernization effort is the coverage improvements it will deliver, especially when it comes to in-home coverage. As we refarm our 1900 spectrum, we will continue to fully support our customers with 2G devices.
For the most part, this article can take any unlocked device on the 1900 band with HSPA+ support and substitute it for the iPhone. If the iPhone isn't your cup of tea and the HTC One X is…the same rule of thumb applies, with the refarming effort the device will work on T-Mobile's 3G/4G network.