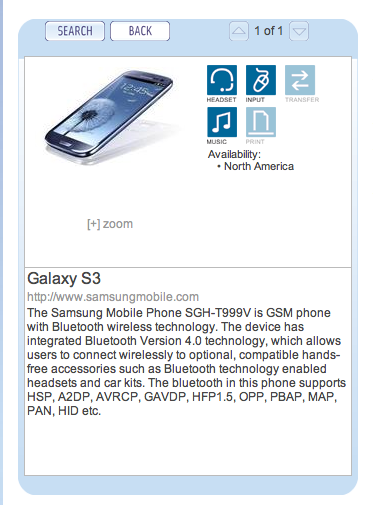 I hope we've already passed the point of uncertainty as to whether T-Mobile will launch the Galaxy S III on their network in the near future. In fact, we're already hearing rumblings of a mid-late June launch, which is right in line with other suspected launches in the US. Still, take any date you hear with a grain of salt until we see something a little more definitive on a launch date, like hopefully some kind of leaked image that verifies any such date.
In the meantime, if you were still on the fence asking yourself if the SGH-T999 really is the Galaxy S III for T-Mobile, Amazon.com and Bluetooth SIG are putting any lingering doubt to rest. On May 15th, the Bluetooth SIG approved the SGH-T999(v) as Amazon puts up a ton of accessories for the T-Mobile 'Galaxy S3' smartphone.
Also, if you had any doubt about just how popular the Galaxy S III will be, a new report indicates close to 9 million phones have been pre-ordered before the phone has even been reviewed or launched anywhere in the world. This is why Samsung is the world's top Android manufacturer.