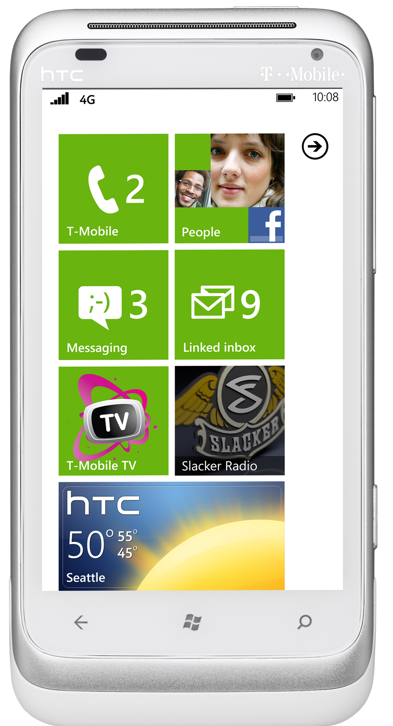 T-Mobile is on a roll this week with 4G handsets as they announce the HTC Radar 4G, the first 4G Windows Phone 7 device to come to T-Mobile. Of course that isn't the only "first" for the HTC Radar 4G as it will also be the first device to come pre-loaded with "Mango" when it arrives sometime this holiday season.
The HTC Radar has a 3.8″ LCD display, 5 megapixel camera and is powered by a 1GHz snapdragon processor with a fully integrated Microsoft Exchange experience as well as Internet Explorer 9 for a "fast, beautiful web experience."
Want to see the HTC Radar 4G in the wild? Check out our exclusive gallery of images.
Press Release:
Today, T-Mobile announced the upcoming availability of the HTC Radar™ 4G, our first Windows® Phone capable of 4G speeds on America's Largest 4G Network®. The completely customizable smartphone pairs rich mobile entertainment features with the top-notch communications experience delivered by the latest version of Windows Phone, code-named Mango. This intuitive new operating system update will keep HTC Radar 4G customers connected and entertained just about wherever life takes them with its new and innovative communication features centered on people, along with preloaded entertainment applications and the ability to multitask between apps.

The HTC Radar 4G is elegantly crafted with an aluminum unibody design for a sleek and stylish appearance. Sporting a large 3.8-inch LCD touch screen display with a virtual QWERTY keyboard and powered by a 1GHz Snapdragon™ processor, the HTC Radar 4G delivers an efficient mobile communications experience at 4G speeds. The smartphone provides a comprehensive productivity experience with fully integrated Microsoft® Exchange and calendar as well as Microsoft Office Hub and Internet Explorer® 9 for a fast, beautiful Web experience.  Additionally, the new smartphone is equipped with dedicated camera button for easy access to the 5-megapixel camera with LED flash so you never miss a photo opportunity, even if the phone is locked.

The HTC Radar 4G is expected to be available at T-Mobile in the U.S. in time for the holidays. More information will be available at http://www.t-mobile.com/.