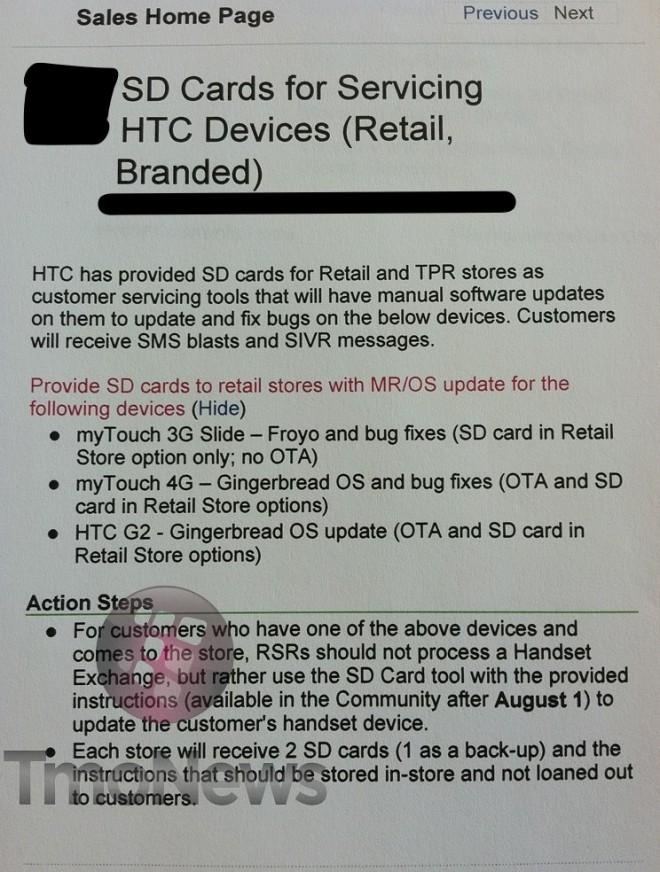 While the arrival date of Gingerbread for the T-Mobile G2 has thus far eluded us, a newly leaked screenshot gives hope that we aren't far off from seeing an official launch. According to this shot and word from our ninjas HTC is preparing to send SD cards to T-Mobile retail stores in an effort to avoid unnecessary equipment exchanges and to help assist customers with software updates. While the card is good for the myTouch 4G, and myTouch 3G Slide we'll focus on the T-Mobile G2 which has yet to see an official Gingerbread release.
As we can see in the image both an OTA and SD version will be available for G2 owners to upgrade their devices to Android 2.3. However, using instructions provided to retail store representatives the SD cards will be able to upgrade the customers device right in the store allowing them to walk in with one software and out with another. We see this as a scenario for customers who are either uncomfortable with the upgrade process, don't know about it or suffering device trouble that an update might fix in lieu of a warranty exchange. Given that the G2 update will also be OTA we imagine an announcement from T-Mobile/HTC isn't that far off considering this screenshot is already making its way through entail stores.
We're still piecing together some details regarding this information but hopefully for G2 owners this gives you a little bit of hope that the update is coming soon. Of course by "soon" we actually mean sometime this year. Just kidding.