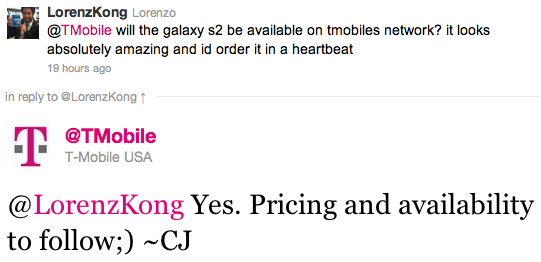 At first glance quite a few of you are taking this at face value and acknowledging that T-Mobile has accidentally copped to the upcoming arrival of the Galaxy S 2. Or have they? As it turns out, was this just an errant tweet as T-Mobile later stated after removing the tweet in question?
The bottom line is that one of two things took place:
1) Someone accidentally gave away and/or acknowledged the upcoming arrival of the Galaxy S 2.
2) Someone mistook the Galaxy S 2 and the Galaxy S 4G as one and the same and answered the question as pictured above.
So in my eyes, the likely scenario is number 2, however that would have NOTHING to do with the actual possibility that T-Mobile will receive the Galaxy S 2 at some point. I'm just going on the idea that since the names are roughly the same minus a single letter that someone read the tweet accidentally and responded in error.