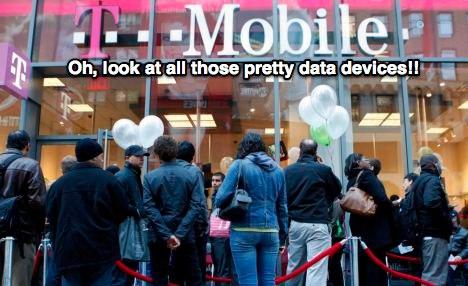 Today's news of the Dell Streak 7 on its way to T-Mobile has me wondering just how many data devices T-Mobile is planning to release in 2011. Rumor has it that we could see close to 24, that's right, 24 data devices during the course of the next year. That's a combination of USB modems, MiFi hotspots, laptops and tablets, tablets and more tablets. With plenty of news sources calling 2011 the year of the Tablet it would behoove T-Mobile to launch at least a "few" that are HSPA+ ready. More to the point, if T-Mobile can keep data pricing at a minimum compared to the competition combined with heavy promotion of HSPA+ speeds, perhaps they can manage to steal a few customers tired of higher costs.
With the Dell Streak 7 all but a sure thing, we're also hearing that LG has a tablet in store for T-Mobile, unfortunately that's about all we know. LG + T-Mobile = tablet, that's about the sum of our current information on that front but our sources are sure it exists in at least a test phase.
We also expect the Galaxy Tab 2, or at the minimum, a Galaxy Tab that runs HSPA+ to surface sometime in the coming year as well based on rumors our ninjas are hearing. Though it's more likely the Galaxy Tab could see more than just HSPA+, including a spec bump to a better processor, improved screen etc. That sounds more in line with what a second generation Tablet would look like.
We of course can't count out HTC and the expectations for their forthcoming Tablet (s), which we also expect to make a T-Mobile appearance.
Needless to say, from what we're hearing T-Mobile is ready to start 2011 with a bang and hit the ground running. We'd be remiss if we said we weren't looking forward it, or just downright excited.