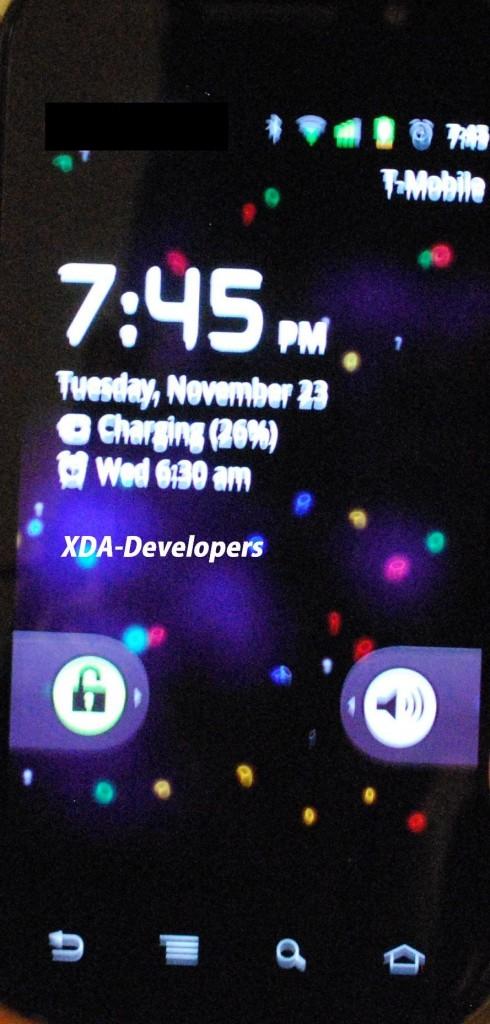 Well it's so very early in the morning but thanks to the very good folks at XDA Developers we've got some more pics and info on the Nexus S.  Thanks to an anonymous source, XDA Developers has received some early holiday goodness from Mr. Blurrycam. Of course that means the usual hard to completely make out but still totally awesome pics clearly showing the device running on the T-Mobile network. Of course this early morning goodness wouldn't be complete without the Nexus S showing off some early images of Android 2.3 (Gingerbread) as well. According to the XDA source we can get a better idea of the specs this device could be working with. We emphasize that these specs are not yet known to be 100% and all of this is subject to change!
ArmV7 CPU – Could be Dual Core
Open GL ES Supported
512 or 328MB Ram (Not 100% known)
1GB or 2GB Internal Memory (Not 100% known)
800×480 Screen Resolution
4? Screen Size
SuperAmoled2 – Possibly
720P HD Video
A few more images await at the XDA link showing off some definite curvature to the back of the device absolutely showing this device to be uniquely different from the Galaxy S series its rumored to be based off of. Hit the link!