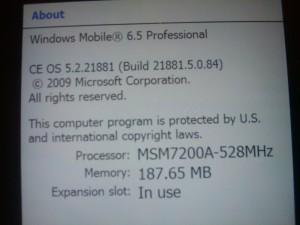 So you bought the popular HTC Touch Pro 2 but are having problems living with Windows Mobile 6.1.  Well, we may just have a cure.  If you happened to be stalking around the forums (they are the happiest place on Earth, but you knew that) around 1 Eastern you may have noticed an unofficial update to the WM6.5 ROM, with HTC's Sense UI and T-Mobile USA features (like My Faves), that could be downloaded.  Well, the should be famous T1 Connect went ahead and tried it himself, and it works.  Unfortunately, the original download link no longer has the file.  Don't worry though, because T1 has you covered there as well.  If you shoot him a Personal Message in the forums, I'm sure he will be more than happy to send you the ROM for the TP2 and the Dash 3G.  Now, if you are worried about this somewhat shady download and update process, then just hold tight because we are hearing that the official update will be coming around the 20th of January.  Leave your love in the comments!
TmoNews Forums, with a lot of thanks to T1 Connect, oh, and everything is originally from the T-mobile Forums
And now, a brief message and some photos from the friendly T1 Connect after the break.
Update: Direct download links added.  Thanks again T1 Connect
I guess you've seen and read the thread by now, so here are the pics.  As you can see the myfaves, windows mobile 6.5 and all the rom info is there along with the installer.  Also the radio is the newest thing out there and is included in the official htc WM installer and not in custom ones because they cannot do radio and rom at the same time.  This rom also includes visual voicemail and the official tmobile visual voicemail that was activated for my phone via tech support.  Also myfaves are included and cannot be duplicated in a custom rom, both dash 3g and tp2 are good to go (pending on the Dash 3G, but things look good).