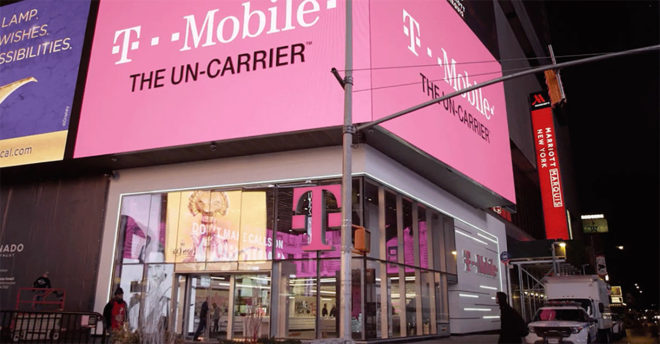 T-Mobile plans to announce its full Q4 2019 results in February, but the carrier couldn't wait until then to share some of the details.
T-Mobile added 1.9 million customers in the fourth quarter of 2019, including 1.3 million postpaid subscribers and 77,000 prepaid customers. This makes Q4 2019 the 27th straight quarter that T-Mobile added more than 1 million customers.
Looking at the full year of 2019, T-Mo added 7.0 million customers, which marks the sixth year in a row that T-Mo has added more than 5 million customers. That total includes 4.5 million postpaid and 339,000 prepaidsubscribers.
T-Mobile had 86.0 million customers at the end of 2019.
Today's announcement also included some details on T-Mo's churn rates for Q4 2019. Postpaid phone churn was 1.01% for the quarter, which is up 2 basis points year over year but is near the Q4 record low. Meanwhile, prepaid churn finished at 3.97% for the quarter, which is down 2 basis points year over year.
We've known for awhile now that T-Mobile has been enjoying some strong growth in recent years because the company has been adding at least 1 million new customers for 27 straight quarters. Still, it's a big deal that T-Mo has added more than 5 million new subscribers for six straight years and finished 2019 with 86 million customers. That's nearly double the amount that T-Mobile had at the end of 2013 (46.7 million), which was John Legere's first full year in charge.
T-Mobile hasn't given us an exact date for its full Q4 2019 earnings release. In the past couple of years, the full Q4 results have been released on February 7th and 8th, so we could get the full Q4 2019 results in around one month. Stay tuned.
Source: T-Mobile