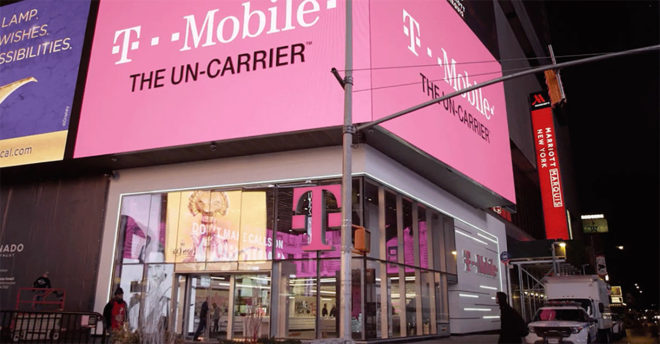 After giving us a tease of its Q4 2018 results last month, T-Mobile today spilled all of the details of its final quarter of 2018.
T-Mobile today reaffirmed that it added a record 2.4 million customers in Q4 2018, with a total of 7.0 million customers added in all of 2018. Also of note is that Q4 2018 was the 23rd straight quarter that T-Mo has added more than 1 million customers. T-Mobile ended the year with 79.7 million customers in all.
Other notable customer details from Q4 2018 include 1.4 million postpaid customer additions and 1.0 million postpaid phone additions, both of which are up year-over-year. Prepaid customer additions fell slightly YoY, finishing at 135,000 in Q4 2018, while postpaid phone churn and prepaid churn both dropped from the year-ago quarter to finish at 0.99 percent and 3.99 percent, respectively.
T-Mobile's total service revenues for Q4 2018 finished at $8.2 billion, a record-high, while total revenues finished at a record-high $11.4 billion. Net income fell 79 percent to finish at $640 million, a drop which T-Mo says is due to the TCJA which resulted in an income tax benefit of $2.2 billion in Q4 2017. Excluding that, net income would have increased by 21 percent in Q4 2018.
When it comes to the network, T-Mobile says 600MHz LTE is available in more than 2,700 cities and towns in 43 states and Puerto Rico. T-Mo's 4G LTE network covers more than 325 million people, up from 322 million at the end of Q4 2017. T-Mobile also says that it owned a nationwide average of 31MHz of 600MHz spectrum at the end of 2018 and that it had cleared 135 million POPs, with that number expected to grow to 272 million POPs by year-end 2019.
Other network details include the news that 87 percent of total voice calls made in Q4 2018 used VoLTE, up from 85 percent in Q3 2018. Carrier aggregation is live in 923 markets, 4×4 MIMO is available in 564 markets, and 256 QAM is live in 988 markets. T-Mobile also says that it's rolled out License Assisted Access (LAA) to nearly 1,700 cell sites to augment available bandwidth with unused 5GHz spectrum. LAA deployments have commenced in 28 cities, including Los Angeles, Philadelphia, Atlanta, Houston, Las Vegas, San Diego, and New Orleans.
T-Mobile continues to build out its 5G network, including in six of the top 10 markets in the U.S. The network will be ready for the first standards-based 5G smartphones in 2019. T-Mo expects to offer nationwide 5G coverage in 2020.
"This never gets old! T-Mobile finished another year with record breaking financials and our best-ever customer growth! Record revenues, strong net income, record Adjusted EBITDA, our lowest-ever Q4 postpaid phone churn that was better than AT&T for the very first time!" said T-Mobile CEO John Legere. "T-Mobile is competing hard and winning customers – and we continue to deliver results beyond expectations. Our 2019 guidance shows that we expect our incredible standalone momentum to continue!"
Source: T-Mobile