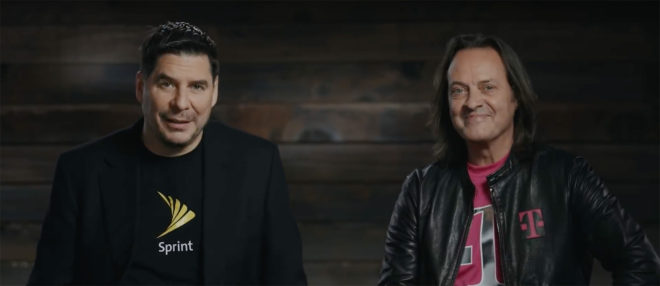 We've heard that T-Mobile and Sprint are hard at work on convincing the Department of Justice to approve their merger, and now we've gotten wind of one concession that the two carriers might make.
T-Mobile and Sprint are thinking about divesting some of their spectrum to improve the odds of the DOJ approving their merger. That's according to reports from Reuters and Bloomberg, with the latter adding that the divested airwaves would go to the government who would then sell them to create a fourth, competitive carrier in the U.S.
Rumors say that DOJ officials met with Comcast and Charter this week to discuss their interest in T-Mobile and Sprint's divested spectrum and possibly becoming a fourth major U.S. carrier. Comcast and Charter reportedly said that they'd bid on certain parts of the spectrum and that they'd also be interested in favorable wholesale agreements, network equipment, and customers that could be divested by T-Mobile and Sprint.
T-Mo and Sprint have already agreed to sell off Boost Mobile if their merger is approved, as well as a promise to meet 5G and in-home broadband rollout goals and a pledge to not raise their prices for three years. Those commitments were good enough to get support for the merger from FCC Chairman Ajit Pai, but DOJ officials and antitrust chief Makan Delrahim are said to be on the fence.
Yesterday, a report claimed that the DOJ wants T-Mobile and Sprint to help create a fourth U.S. carrier with its own network before it'll approve their merger. The combined spectrum of T-Mo and Sprint is a big reason that the two carriers want to merge, as they say it'll help them build a better 5G network, but they might be willing to divest some of those airwaves if their merger depends on it.