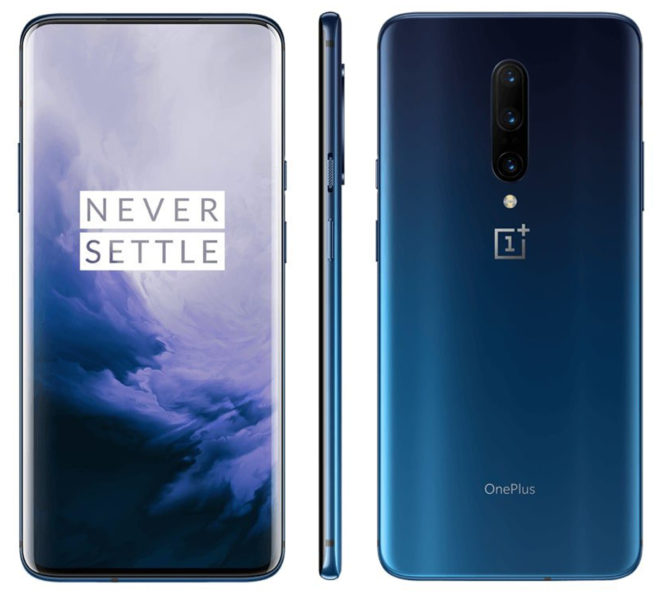 Ahead of the OnePlus 7 Pro's official announcement on May 14th, some high-quality images of the upcoming flagship have leaked.
The images show the OnePlus 7 Pro in Nebula Blue and Mirror Grey color options. Coming to us from Ishan Agarwal, the renders show a OnePlus phone with an edge-to-edge display. There's no notch or front camera to be found here, adding fuel to the pop-up selfie cam fire. There's no visible fingerprint reader, either, suggesting that OnePlus is sticking with the in-display fingerprint sensor like it used in the OnePlus 6T.
Other notable features of the OnePlus 7 Pro include a triple rear camera setup that's been confirmed to include a 3x optical zoom. Rumors say the other two cameras could include a 48MP sensor and a wide angle snapper. There's an alert slider on the side of the OnePlus 7 Pro, too, which has been used on many previous OnePlus phones and is a welcome sight on the OP7 Pro.
There haven't been any announcements or hints about a T-Mobile release for the OnePlus 7 Pro so far. T-Mobile was the first U.S. carrier to sell a OnePlus phone with the launch of the OnePlus 6T, though, and that device had pretty strong sales compared to its predecessor that wasn't available on any carrier, so it's very possible that the OnePlus 7 Pro will be available from T-Mobile. That'd be great for both OnePlus and T-Mobile, as it'd expose OnePlus's new phone more consumers and it'd enable more T-Mo customers to buy the phone since they could get it on EIP.
What do you think of this OnePlus 7 Pro? Based on what we know so far, would you buy it if it were sold by T-Mobile?
Source: Ishan Agarwal (Twitter)