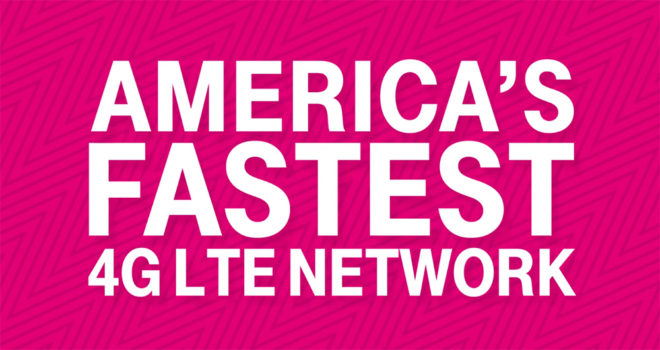 T-Mobile has a streak of coming out on top in Ookla's Speedtest Intelligence reports, and today it's been confirmed that that streak has continued for another quarter.
Ookla says that T-Mobile had the fastest 4G LTE data speeds for the fourth quarter of 2018, making that the 20th straight quarter that T-Mo has had the speediest data speeds according to Ookla data. For Q4 2018, T-Mobile posted an average 4G LTE download speed of 33.4Mbps and an average 4G LTE upload speed of 12.1Mbps.
To compare, Verizon came in second with a download speed of 32.1Mbps and an upload speed of 10.3Mbps, and AT&T finished third with a download speed of 30.6Mbps and an upload speed of 8.2Mbps. Sprint rounded things out with a download speed of 27.7Mbps and an upload speed of 3.5Mbps.
T-Mobile also dropped the news today that its 600MHz Extended Range LTE coverage is now available in more than 2,700 cities and towns in 43 U.S. states and Puerto Rico. That's up from 1,500 cities and towns in 37 stats and Puerto Rico from back in October.
600MHz is a big deal to T-Mobile. It first flipped the switch on its 600MHz LTE coverage in August 2017, with Cheyenne, Wyoming being the first city to get it. Since then, T-Mo has been working to aggressively to supplement its LTE coverage with the 600MHz airwaves, which reach farther and are better at penetrating buildings than mid-band LTE. T-Mobile currently offers nearly 30 devices with support for 600MHz LTE. And looking ahead, T-Mo plans to use 600MHz spectrum for its 5G network, which is expected to have nationwide coverage in 2020.
Also of note is that T-Mobile has rolled out LTE Advanced technologies in more than 6,000 cities and towns in the U.S. These technologies included carrier aggregation, 4×4 MIMO, and 256 QAM, and they help to boost LTE speeds for devices that support them.
Finally, T-Mobile today said that it ranked highest in Overall Customer Satisfaction and Likelihood to Recommend through all of 2018, according to consumer opinion tracker HarrisX Mobile Insights.
Source: T-Mobile