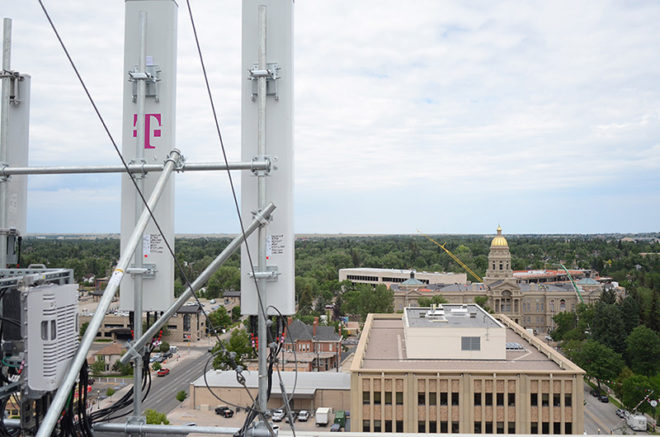 Just months after winning a bunch of 600MHz spectrum in an FCC auction, T-Mobile has begin to deploy its new coverage.
T-Mobile announced today that its first 600MHz LTE sites are now live in Cheyenne, Wyoming. You can see a video of a phone call being completed over these 600MHz airwaves below.
In addition to lighting up its first 600MHz cell sites, T-Mobile today revealed other parts of the U.S. where it plans to go live with 600MHz coverage in 2017. They are:
Wyoming
Northwest Oregon
West Texas
Southwest Kansas
The Oklahoma panhandle
Western North Dakota
Maine
Coastal North Carolina
Central Pennsylvania
Central Virginia
Eastern Washington
There are no smartphones that currently support T-Mobile's new 600MHz coverage, so customers will have to wait before they can try it out for themselves. T-Mo has said that it'll have smartphones from Samsung and LG that support 600MHz coverage in Q4 2017.
T-Mobile won an average of 31MHz of 600MHz spectrum nationwide in the FCC's auction earlier this year, and T-Mo says that this spectrum covers 100 percent of the U.S. and Puerto Rico. While some of this 600MHz spectrum will be used for 4G LTE coverage, T-Mobile also plans to use some of it for 5G.
Source: T-Mobile