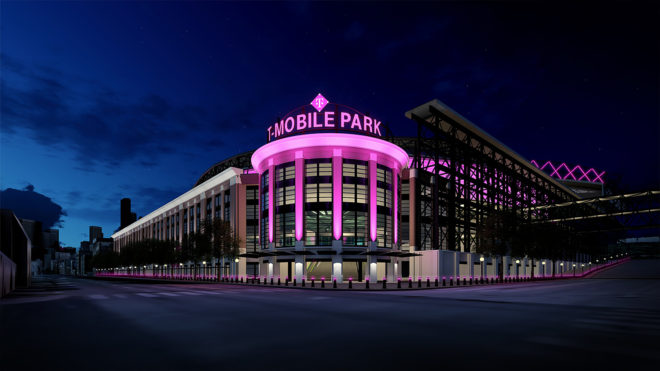 It's official: The Seattle Mariners' Safeco Park in Seattle is getting a dash of T-Mobile.
T-Mobile Park will be the new name for the Seattle Mariners' ballpark starting in January 2019. The naming deal will be good through December 2043, meaning you'll see T-Mobile's name in lights above the Mariners' field for a long while to come. The process of incorporating T-Mobile's branding through the park will happen over the coming months, and it's expected that most of it will be complete by Opening Day on March 28, 2019.
According to Forbes, the naming rights deal has an annual value of $3.7 million, giving the 25-year agreement a total value of $87.5 million.
T-Mo says that all fans can get early access to T-Mobile Park on game days via the T-Mobile 'Pen, which will open 30 minutes before all the other gates at the park. Situated behind Left Field and Center Field, this are will allow fans to watch the Seattle Mariners during batting practice and pitcher warm-ups. It'll also include surprise giveaways and a live DJ on select days.
Also as part of this naming rights deal, T-Mobile is bringing T-Mobile Tuesdays to the park. T-Mo will be giving fans surprise seat upgrades and free stuff at Tuesday games, and T-Mobile customers can expect extra perks like fast-track entry, discounted tickets, and exclusive merch offers.
With Safeco Insurance's naming rights deal wrapping up recently, T-Mobile had an opportunity to get its name in lights at its hometown baseball team's park. The deal is a big one for T-Mobile because its name will be attached to the Seattle Mariners' ballpark for the next 25 years, but it's also appealing for T-Mobile customers who enjoy baseball since they'll be getting fast-track entry and other perks. It'll be interesting to see what kind of discounts and offers T-Mobile cooks up for its subscribers once the MLB season gets underway.
Source: T-Mobile