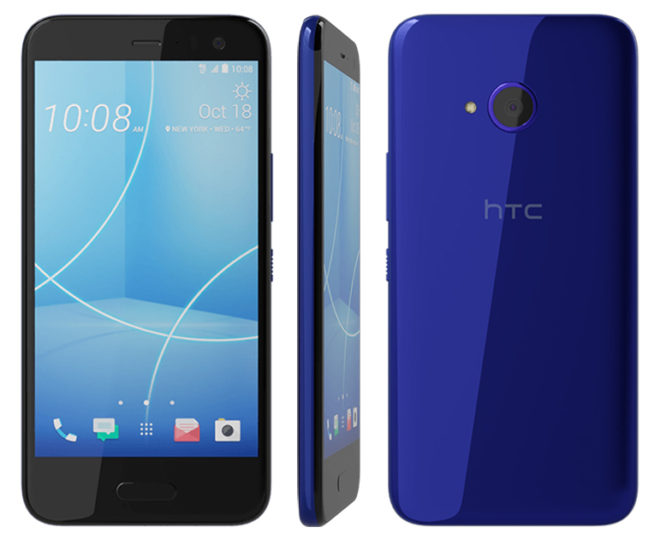 UPDATE: An image shared by Reddit user ABZMAGENTA suggests that the HTC U11 Life will launch at T-Mobile this Friday, November 3rd. Thanks, Tin!
ORIGINAL: Days after rumors suggested that the HTC U11 Life would be coming to T-Mobile, it appears that T-Mo has (accidentally?) confirmed that news.
The HTC U11 Life briefly appeared on T-Mobile's support site today, complete with images and spec details. As you can see in the images above, the HTC U11 Life is packing a fingerprint reader below its display, and around back there's a single camera.
The support pages have since been taken down, but you can view archived versions here and here.
When it comes to specs, the U11 Life looks like a mid-range device. It runs Android 7.1.1 on a 5.2-inch display and includes 16-megapixel cameras on both its front and rear. Additionally, the U11 Life's body is IP67-rated for dust and water resistance.
Inside that body lives an octa-core Snapdragon 630 processor, 3GB of RAM, 32GB of storage, and a microSD card slot. There's a 2600mAh battery in there, too, and a USB Type-C port for recharging that battery. HTC is also including Edge Sense, a feature that'll let you squeeze the sides of the U11 Life to perform an action.
Finally, the HTC U11 Life is listed with VoLTE and HD Voice support, but there's no mention of any LTE Band 66 or LTE Band 71 support.
Also missing from T-Mobile's HTC U11 Life support page is any kind of launch or pricing information. The release could be close, though, because not only is the U11 Life now live on T-Mo's support site, but HTC is making an announcement on November 2nd.
Via: Android Police
Source: T-Mobile (1), (2), Archive (1), (2)