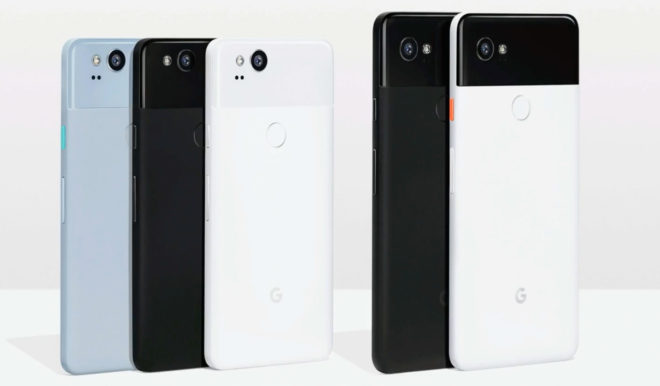 The new Google Pixel phones are official.
Google today introduced the Pixel 2 and Pixel 2 XL at an event in San Francisco. The Pixel 2 features a 5-inch 1920×1080 AMOLED 16:9 display, while the Pixel 2 XL features a larger 6-inch 2880×1440 pOLED 18:9 screen. One other notable difference between the two phones is battery size, with the Pixel 2 packing a 2700mAh battery and the Pixel 2 XL coming equipped with a 3520mAh battery.
Most of the spec lists for the Pixel 2 and Pixel 2 XL are the same. They've both got a 12.2-megapixel rear camera with OIS, PDAF, EIS, and an f/1.8 aperture; an 8-megapixel camera with f/2.4 aperture; 4GB of RAM; front-facing speakers; and the Snapdragon 835 processor. They'll both be offered in 64GB and 128GB variants.
Other hardware specs for the new Pixel 2 phones is IP67 water and dust resistance and a USB Type-C port. There's no 3.5mm headphone jack, but Google has said that there will be an adapter included.
When it comes to wireless connectivity, Pixel 2 and Pixel 2 XL will support LTE bands 1/2/3/4/5/7/8/12/13/17/20/25/26/28/29/30/32/38/40/41/66. Both phones also support network features like 3x Carrier Aggregation, 4×4 MIMO, 256 QAM for downloads, and 64 QAM for uploads.
Both phones also feature Active Edge, which will let you launch Google Assistant by squeezing the sides of your phone to launch Google Assistant. They'll also include a preview of Google Lens, a feature that'll let you point your camera at something in the world and get more info about it, like the artist of a painting or the email address off a flyer.
Another software feature of Google's new Pixel include an Always On Display with Now Playing, which can identify the music that's playing around you without you having to ask. Google has slightly tweaked the home page of the Pixel 2, moving the search bar to the bottom of the display where it's easier to reach and putting an At A Glance widget at the top to show your upcoming appointments and more.
Pixel 2 and Pixel 2 XL will come with Android 8.0 Oreo and are guaranteed three years of OS and security updates.
The Pixel 2 will be priced at $649 for the 64GB model and $749 for the 128GB version. Pricing for the Pixel 2 XL starts at $849 for the 64GB version and goes up to $949 for the 128GB model. For a limited time, customers that buy a Pixel 2 or Pixel 2 XL will get a free Google Home Mini.
Google says that it's partnering with Verizon to sell the Pixel 2 phones in the U.S., but both models will also be sold through the Google Store and Project Fi.
Like it did with the original Pixel phones, T-Mobile will be running a special offer for customers that bring a Pixel 2 or Pixel 2 XL to its network. For a limited time, new customers can bring one of the new Pixels to T-Mobile, sign up for a voice line, and get $325 back in the form of a MasterCard card.
Existing customers are eligible for this promo, too. T-Mobile One and Simple Choice Unlimited customers can take advantage by adding a line and bringing a Pixel 2 or Pixel 2 XL to T-Mobile.
So, what do you think of Google's new flagship smartphones? Will you be buying one to bring to T-Mo?