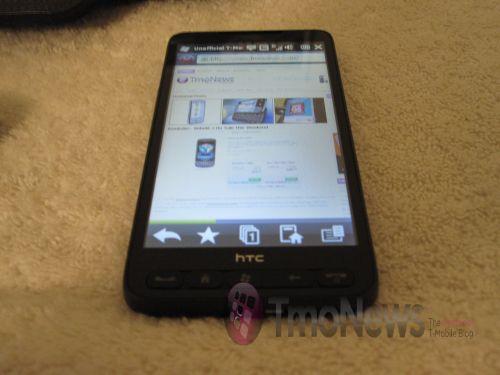 Having hinted last week that the HTC HD2 would come with something unexpected, this morning T-Mobile announced the HTC HD2 would come packed with an entertainment bonanza. Like Blockbuster On Demand for downloading movies on the device or Barnes and Noble downloadable e-reader content and last but definitely not least, Transformers and Transformers: Revenge of the Fallen included on the microSD card. Any phone that comes with both Transformers movies is a must buy for me! Say what you want, but Michael Bay movies are just "explosively" fun. The best news? The HTC HD2 will be exclusive to Magenta making you the envy of HTC Sense lovers everywhere. This phone just can't truly be enjoyed without 3G speeds but I'm doing a damn good job of trying! The bigger questions is when or if the HD2 will receive an update to Windows Phone 7 in the future but for the moment, enjoy its 4.3 inches of excellence! Officially expected to drop in March, we're still expecting the 24th as the leaked retail slide showed.
Of course, not to be outshone by the HTC HD2 is the Webconnect Rocket, T-Mobile's first HSPA+ USB modem capable of the 21Mbps speed we are all drooling over. Of course, the launch will have to wait a little for a footprint to use as the service is still only available in the Philadelphia area. We know that the east and west coasts are going to be the first areas where you will be able to fully enjoy data speeds that make DSL look like child's play. The Webconnect rocket drops in March, though the exact date is unknown.
Full press release after the break!
T-Mobile USA's HTC HD2 to Bring a Never-Before-Seen Mobile Experience to Entertainment Fans Across the U.S.
T-Mobile to Deliver a Multimedia Powerhouse With Content From Barnes & Noble, BLOCKBUSTER, MobiTV and Paramount Pictures on the Largest Screen on a Smartphone
BARCELONA, Spain, and BELLEVUE, Wash. – Feb. 16, 2010 – During a press conference at Mobile World Congress today, T-Mobile USA, Inc. announced the creation of a comprehensive mobile entertainment experience for the upcoming HTC HD2, available exclusively in the U.S. from T-Mobile this spring. Offering the largest touch screen on a smartphone in the U.S., the new HTC HD2 will come ready with access to millions of eBooks, movies, television programs and more.
The slim and sleek HTC HD2 comes equipped with an industry-leading, high-resolution 4.3-inch capacitive touch display, a blazing-fast 1GHz Snapdragon™ by Qualcomm processor, and support for T-Mobile's high-speed 3G network for a fast mobile data experience. Designed by HTC, the HTC HD2 is also the first Windows phone with HTC Sense™.
"T-Mobile is committed to offering innovative solutions to connect, inspire and entertain our customers through the power of mobile technology," said George Harrison, vice president, marketing product innovation, T-Mobile USA. "By combining leading innovation in the world of entertainment with the large screen and processing power of the HTC HD2, we've created a unique and powerful mobile entertainment experience."
Consumers will have access to a complete entertainment package consisting of pre-loaded content and new pre-installed applications. In addition to the device's array of built-in multimedia applications, the HTC HD2's top entertainment features include the following:
• Barnes & Noble eReader application puts the world's largest eBookstore in your hand with access to more than a million eBooks, newspapers, magazines and your Barnes & Noble digital library everywhere you go. Enjoy reading on the largest screen available for eReader smartphone software.
• BLOCKBUSTER on Demand® application is for discovering and downloading the hottest new releases on the go. Blockbuster's first-ever video download application on a smartphone allows consumers to buy a movie on one device and watch on another connected device through Blockbuster's library.
• MobiTV mobile application offers consumers access to live and on-demand TV on their phone – including news, sports and entertainment. Favorite channels such as MTV, NBC, COMEDY CENTRAL, ESPN and more are available for HTC HD2 consumers to watch at home or away. Plus, when HTC HD2 consumers subscribe to MobiTV, their first 30 days of service are free.
• Paramount Pictures' popular films "Transformers" and "Transformers: Revenge of the Fallen" come pre-loaded on the device's memory card and optimized for viewing on the HTC HD2's high-resolution screen.
• Gogo® Inflight Internet service offers consumers who purchase the HTC HD2 an added bonus: up to six months of free in-flight Wi-Fi access on their device, with Internet access on 2,500 daily flights in the continental U.S. and growing.
"With an ultrafast 1GHz processor, crisp, vivid 4.3-inch screen and the hallmark HTC Sense user experience, the HTC HD2 represents the ultimate fusion of power and usability," said Jason Mackenzie, vice president of HTC America. "By building on this highly capable platform with a wide range of mobile entertainment options, HTC is helping deliver a multimedia powerhouse to people looking to enhance their on-the-go lifestyle."
"Windows phones offer flexibility for people who want to get the most out of life – work and play – with no compromises," said Andy Lees, senior vice president, Mobile Communication Business, Microsoft Corp. "The HTC HD2 is an ideal phone for people who are always on the go as it gives access to the things they care about most. Whether it's music, TV, Internet or e-mail, they have what they want, when they want it."
In addition to the comprehensive entertainment features of the device, the HTC HD2 delivers advanced phone features including Windows Mobile 6.5 operating system, GPS functionality with access to turn-by-turn navigation from TeleNav GPS Navigator™, a Web browser, a pre-installed 16 GB microSD card, and an advanced 5 megapixel autofocus camera with dual LED flash for capturing images, even in dim conditions.
Availability
The HTC HD2 is expected to be available in the U.S. exclusively to T-Mobile customers this spring. More details will be available at http://www.sticktogether.com/htchd2.
3G coverage is not available everywhere. For information about T-Mobile's 3G service, device features, or the offers and services mentioned, see T-Mobile.com.