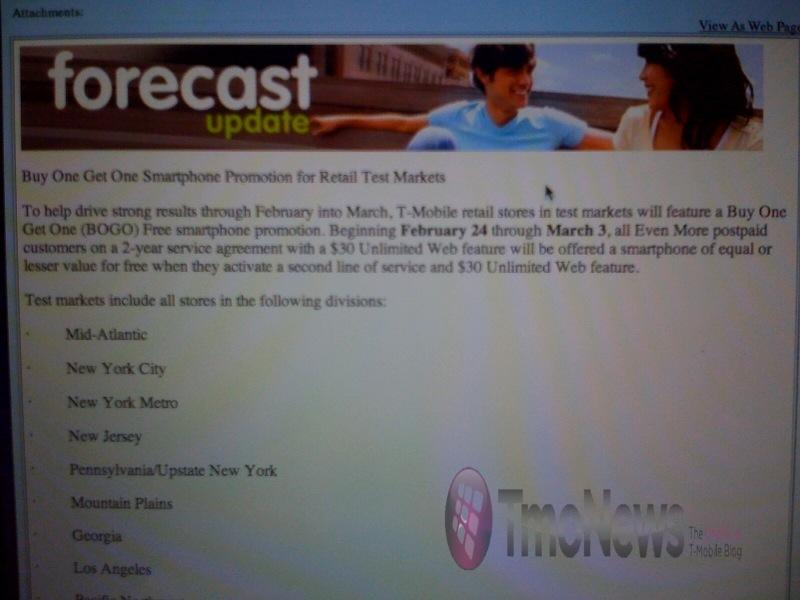 Just two hours ago, we managed to get a screengrab of a flyer advertising a Buy One, Get One Smartphone deal from T-Mobile. A number of you screamed "fake," and a number of you swore it was real. Turns out there was a good reason why some of you didn't believe and some of you did. As it stands, the BOGO does start tomorrow February 24th and run through March 3rd, and to the best of our knowledge at both corporate locations and authorized dealers. (Don't quote us on that though, ok?) The catch? Its test market only and if you aren't in one of the select test markets, you probably aren't supposed to know about this.
Here is the rundown:
Test markets:
Mid-Atlantic
New York City
New York Metro
New Jersey
Pennsylvania/Upstate New York
Mountain Plains
Georgia
Los Angeles
Pacific Northwest
The Following Phones Qualify
Samsung Behold II, BlackBerry Pearl 8120 (all colors), BlackBerry Curve 8520, BlackBerry Curve 8320 (all colors), BlackBerry Curve 8900, BlackBerry Bold 9700, T-Mobile G1, T-Mobile myTouch 3G
T-Mobile myTouch 3G with 3.5mm jack, T-Mobile myTouch 3G Fender Limited Edition
Motorola CLIQ, BlackBerry Pearl Flip, Sidekick LX 2009, T-Mobile Sidekick (2008)
HTC Touch Pro II, T-Mobile Dash 3G
New activations and add-a-line only!! Not valid for upgrades, Even More Plus, and FlexPay customers.
2-year postpaid Even More contract required on both lines as well as $30 data package!