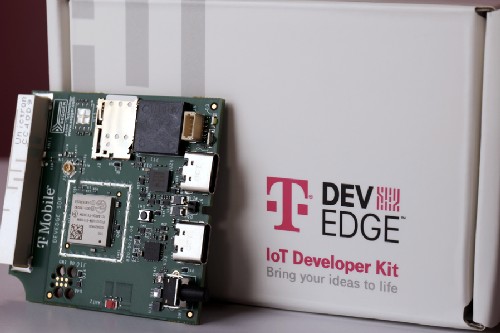 Earlier today, T-Mobile launched its first IoT Developer Kit through T-Mobile DevEdge. The Un-carrier launched its self-serve developer platform, DevEdge, at the start of the year for developers to use. 
By launching the new IoT Developer Kit, T-Mobile allows developers access to its network and makes connected solutions easily. 
Through this, innovators have access to an out-of-the-box kit that connects to T-Mo's network automatically. Developers no longer need to code or build anything from scratch. T-Mo's kit is equipped with a CAT-M IoT Network SIM, built-in debugging capabilities, embedded sensors and radios, self-serve access to free APIs and many more. 
T-Mobile's SVP of Emerging Products said: 
"T-Mobile is opening doors for innovators of all kinds, making building for wireless simple and easy… the way it should be. As the Un-carrier, we're empowering developers, no matter their size or what stage of the development process they're in, to create innovative connected solutions. Our IoT Developer Kit, a fully functional out-of-the-box kit that connects seamlessly to our leading network, is our next big step in driving that innovation forward."
You can read more about T-Mobile's Developer Kit here. 
Source: T-Mobile