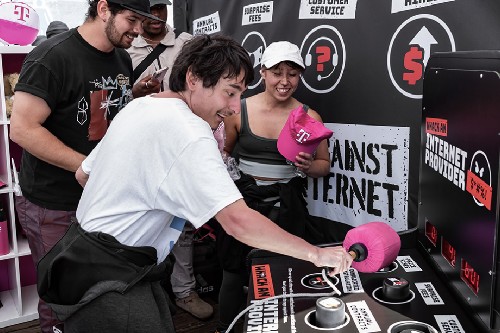 Last week, T-Mobile promised that it will be revealing its latest Un-carrier move. And today, this move has officially launched and it's called Internet Freedom. 
In celebration with this launch, T-Mobile has a series of pop-ups around the country that lets Big Internet customers vent out their frustrations over their providers. The pop-up is called Rage Against Big Internet, and it is launching at the Santa Monica Pier in Southern California. 
Along with this Whack-an-Internet Provider pop-up event, T-Mobile is launching its Internet Freedom service today. With this launch, interested individuals can do the following:
Test Drive Home Internet for 15 days 
Break existing contracts at no cost, thanks to T-Mobile's early termination fee of up to $500
Enjoy Home Internet at $50 per month with Price Lock
Get Home Internet for $30 per month with a Magenta MAX family plan
Get $50 off on any streaming device with Home Internet and any voice plan. This includes a free Chromecast, Roku, Fire TV, or a discount on other streaming devices
Get 50% off YouTube TV for a full year with Home Internet and Magenta MAX
If you're interested to learn more about Internet Freedom, you can visit this site.
Source: T-Mobile