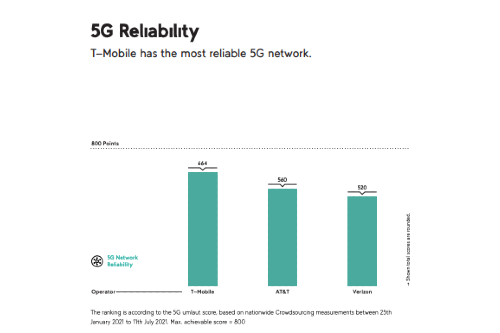 T-Mobile will no longer be using the claim of having the "most reliable 5G" in its advertising. This is after it failed to get the approval of the National Advertising Review Board (NARB). 
As reported by Fierce Wireless, T-Mobile said that it will follow the recommendations of the board. The Un-carrier started using the claim based on the results of umlaut's April 2021 testing. Unfortunately, the NARB found that the methodology used by the network testing company didn't meet the appropriate criteria to support the most reliable claim. 
"Further, in the absence of convincing consumer research justifying a different result, the panel agreed with NAD's conclusion that at least one component of network reliability analysis should be task completion," said NARB. 
Even though T-Mo agreed to stop using the claim, it disagreed with the board's assessment that umlaut's research was faulty. The wireless carrier said that it "nonetheless remains mindful of NAD's directive that wireless carriers ensure their network performance claims be based on current data, and will make sure that any future claim that its 5G network is the most reliable addresses the concerns that NARB has articulated in this decision."
Source: Fierce Wireless