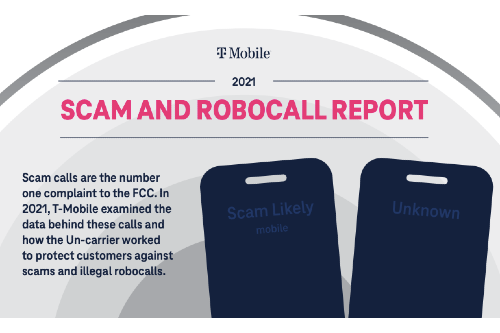 T-Mobile has been busily fighting off scammers and robocalls off of its network. And today, the Un-carrier has released its first ever end-of-year wireless scam report. 
In the report, T-Mo revealed that there has been an increase of 116% in scam attempts through Dec. 14 of this year. The industry is even predicted to receive 110 billion calls this year. But despite these numbers, T-Mobile has proudly revealed that they were able to block over 21 billion scam calls. This is all thanks to their T-Mobile Scam Shield blocker. 
Scam Shield has also been able to block 3.5x more calls compared to AT&T's solution. Additionally, T-Mobile reports that its "Scam Likely" label has a better than 99% accuracy rate than its rival network. 
"Attempted scam calls hit record highs in 2021, but with Scam Shield we identified or blocked over 21 billion calls this year – or 700 calls per second! – for customers. We are the only provider protecting every single customer, regardless of their plan or device," T-Mobile Consumer Group President, Jon Freier said. "Scammers are relentless, but so are we. We are doing everything we can to make their job as hard as possible. Scam Shield leverages T-Mobile's powerful network to help keep our customers protected in real time, 24 hours a day, seven days a week."
Scam Shield was launched by T-Mobile in July 2020 to protect customers against scammers. You can read the full report here.
Source: T-Mobile